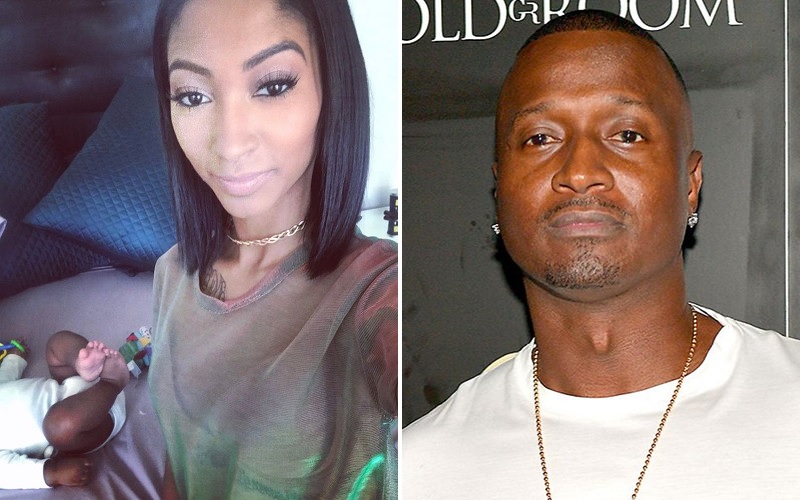 There is so much going on with the Kirk Frost and Jasmine Washington saga, that it's hard to keep up. The latest blog developments of the Love and Hip Hop Atlanta storyline is that Jasmine's ex-boyfriend is the father of her baby, NOT Kirk!
Since January, Jasmine has publicly claimed Kirk is the father of her 7-month son, Kannon. However, another man has emerged as the potential father of the baby. A source revealed to Fameolous that Jasmine has been in an on/off relationship with someone named Logan for the past 11 years.
The source says Logan's father's name was Cannon. Though he has since passed away, Jasmine allegedly told Logan's mother that she would name her baby after Cannon. However, Jasmine's current boyfriend, Rod Bullock, concocted the idea to "set up" Kirk after learning about he and Jasmine's affair.
The source reveals:
"In upcoming episodes, this information will be revealed as Jasmine and Rod are trying to set up Kirk. Once Rod found out Jasmine was pregnant, he told her, 'Let's take advantage of this Love & Hip Hop opportunity.' However, he didn't know about Logan at the time. Jasmine then changed the spelling of her son's name to a 'K' because all of Kirk's kids' names begin with the letter 'K' after him."
Apparently, production has found Logan and he has filmed a scene for the VH1 reality show.
"When Logan (the real father of the baby) shows up to film a scene about this entire situation, Jasmine is blindsided and runs out the room because she realizes he is about to blow up her entire false story. Jasmine had no idea the producers dug up her ex-boyfriend."
Fameolous' source also says that Jasmine has done this before. She was allegedly "ran out of her hometown for trying to set up and swindle other men."
The blog has also obtained the first photos of Baby Kannon.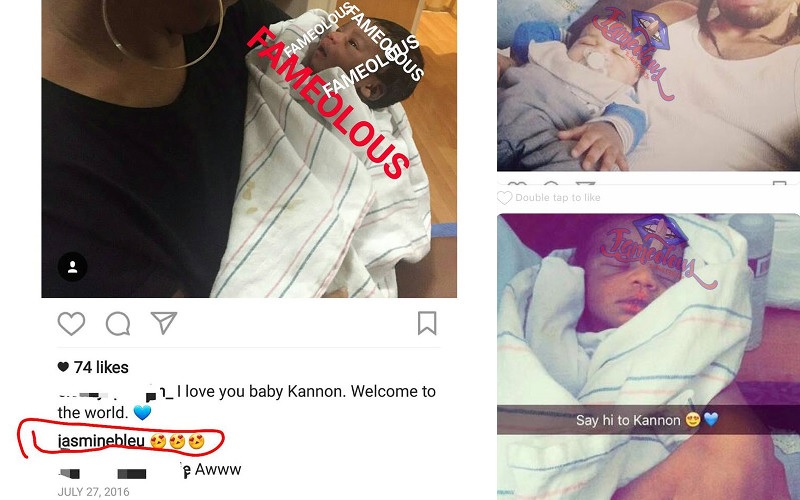 But that's not where it ends!
While that particular source says Logan is the father, another Fameolous source says Kirk is the father and he and Rasheeda both know it. This source is Rod's assistant and allegedly Rasheeda's own niece!
Without knowing she was Rasheeda's niece, she says Rod told her everything about the situation and showed her text messages and videos as receipts. She then told Rasheeda what her husband was up to, but Rasheeda eventually got upset when she was approached to film for the show.
The niece says Rasheeda and Kirk hired Logan to say he was the father of Jasmine's baby to protect their image.
"Kirk and Rasheeda hired Logan to say he was the father, true enough Logan and Jasmine had a relationship but that was over in 2014… I know that yal like believe Rasheeda doesn't know anything about this story but she does. I told her everything. They just wanna protect their image! Normally I wouldn't out family but since I'm in the middle Kirk is dead wrong and needs to admit to his responsibilities."
The niece provided literal receipts of her own: a photo of a receipt of Kirk buying Jasmine a purse, with Jasmine showing off the purse.
https://www.instagram.com/p/BRq3BLcBGR6/
She also provided a video footage of Kirk having a two-minute conversation with Jasmine on the phone. He discusses giving her money and paying for the baby's insurance after Jasmine asked for $3,000.
Guess we'll find out the truth about whether or not Baby Kannon is really Kirk's son sometime this season on LHHATL.
Be the first to receive breaking news alerts and more stories like this by subscribing to our mailing list.