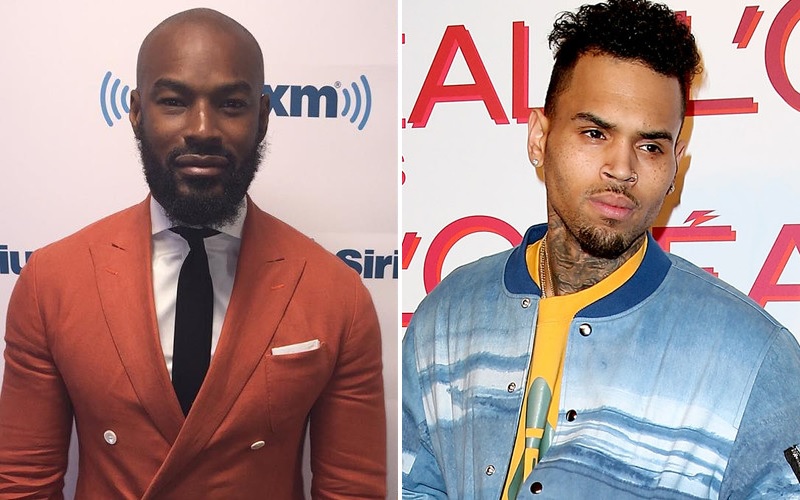 Despite supposedly squashing their "beef," there still seems to be a little tension between Tyson Beckford and Chris Brown. The male supermodel appeared on Watch What Happens Live! and did not hold back, saying still has "no respect" for the troubled singer.
Beckford was a guest on the show Sunday (Mar. 19), alongside Kenya Moore, to promote his upcoming 3-month stint as the celebrity host of the Chippendale's revue in Vegas. Reading fan questions, Andy Cohen asked Beckford what would happen if he was stuck in an elevator with Chris.
"One of us is coming out alive and it's me."
Beckford went on to explain that he has no respect for Chris, but also added that he feels sorry for Chris due to his drug use.
"I still don't got no respect for dude I feel bad for him. Drugs is a [motherf**ker]… Yeah, I think he really needs to check himself for that. It's a bad thing and it's probably out of his control, but hey it is what it is."
Although the model said he doesn't know what drugs Chris allegedly uses, a recent explosive Billboard article reported the singer is addicted to "cocaine, lean, molly, and Xanax "and "[passes] out on his couch at night in a messy living room.
Beckford and Brown's issues are traced back to 2015 after Beckford posed with Karrueche Tran and posted the pic on Instagram. Predictably, Chris' controlling ways were on full display after he saw the post.
He wrote on Twitter:
"I'm done all this Internet talking blood. Be in Vegas soon. Keep playing ima f*ck ya baby momma and then whoop yo child like he mine… U wanna keep walking them runways. I need ta legs for that. Keep playing like I ain't wit the bullsh*t."
Chris later apologized on Twitter and admitted he "was wrong for even pressing a issue."
Be the first to receive breaking news alerts and more stories like this by subscribing to our mailing list.