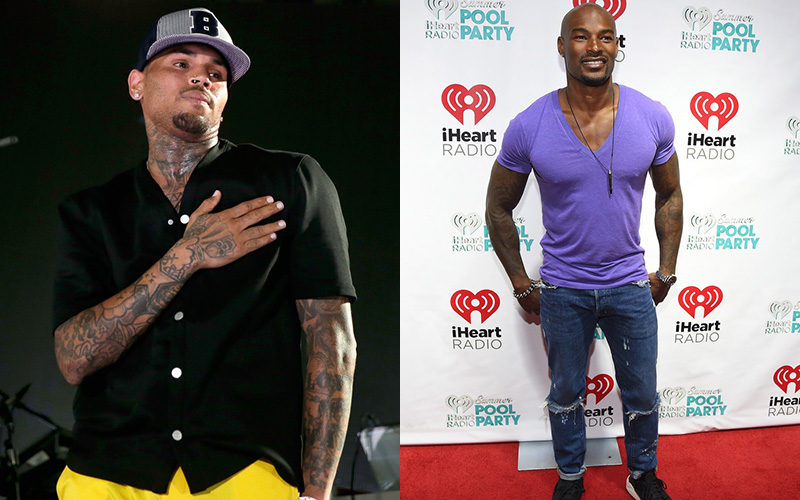 You'll have to excuse Chris Brown for attacking actor/model Tyson Beckford on social media over taking a selfie with his ex Karrueche Tran. He's just a light-skinned man who's always in his feelings.
The "Loyal" singer went crazy last week when Beckford posted this photo on Instagram with Karrueche in Las Vegas.
After seeing the pic on IG, Chris sent out a number of tweets (which were later deleted) threatening to pull up on Tyson in Vegas.
Chris also said in one of the tweets, he would "f*ck" Tyson's baby mama and whoop his child.
"I'm done all this internet talking blood. Be in Vegas soon. Keep playing ima f*ck ya baby momma and then whoop yo child like he mine."

"U wanna keep walking them runways. I need ta legs for that. Keep playing like I ain't wit the bullshit."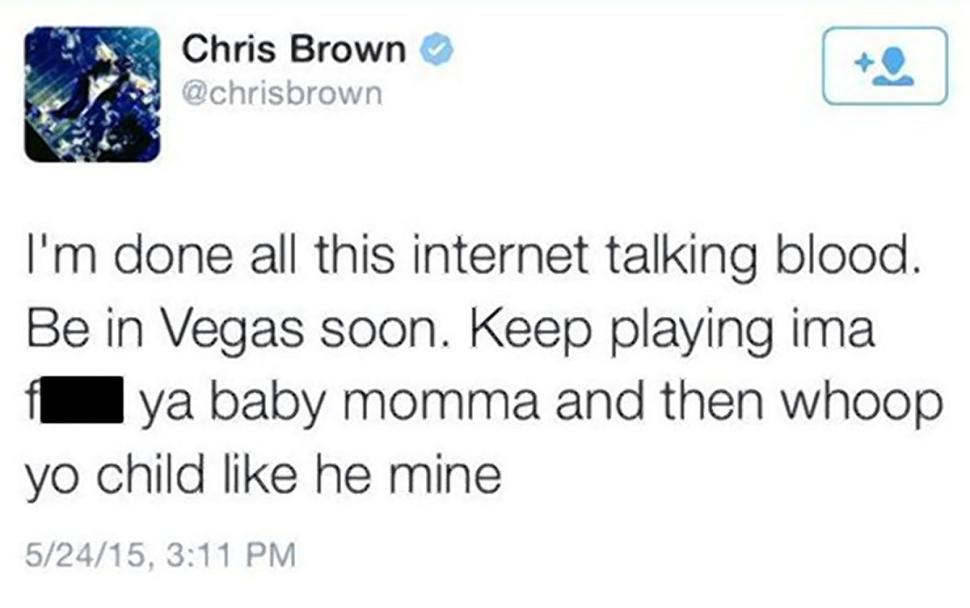 Tyson responded with a video (which he later deleted) of him at a gun range with the caption, "Just in case you forgot!"
Tyson also tweeted, "It's all about fun in vegas. Come thru papa," but folks on Twitter mocked him for tweeting the wrong account.
@officialchrisbrown it's all about fun in vegas. Come thru papa. 😎👍🏾

— Tyson Beckford (@TysonCBeckford) May 25, 2015
For what it's worth, Chris Brown's verified Twitter is "@chrisbrown" and his verified Instagram is "@chrisbrownofficial." Chris Brown does not own an account on social media with the handle "@officialchrisbrown."
Later that evening, Breezy posted a photo of Vegas police behind a building with the caption: "This n*gga Tyson got the whole Vegas PD out here. Suckah! This fruitz!"
An insider later told E! News that Tyson Beckford wasn't trying to start any beef with Brown. "Tyson was just being playful but it seemed that Chris got jealous," the source said. "He is not looking for issues with Chris at all."
After going back and forth with Tyson, Chris returned to Twitter to squash their short-lived beef, and took responsibility for his actions, chalking them up to the fact that he's "light skin" and "always in [his] feelings."
He added, "No drama! People are really starting to make this shit an issue. I can be a real one and say that I was wrong for even pressing an issue."
I'm light skin! I'm always in my feelings!

— Chris Brown (@chrisbrown) May 26, 2015
No drama! People are really starting to make this shit an issue. I can be a real one and say that I was wrong for even pressing an issue.

— Chris Brown (@chrisbrown) May 26, 2015
I can be a man about it.

— Chris Brown (@chrisbrown) May 26, 2015