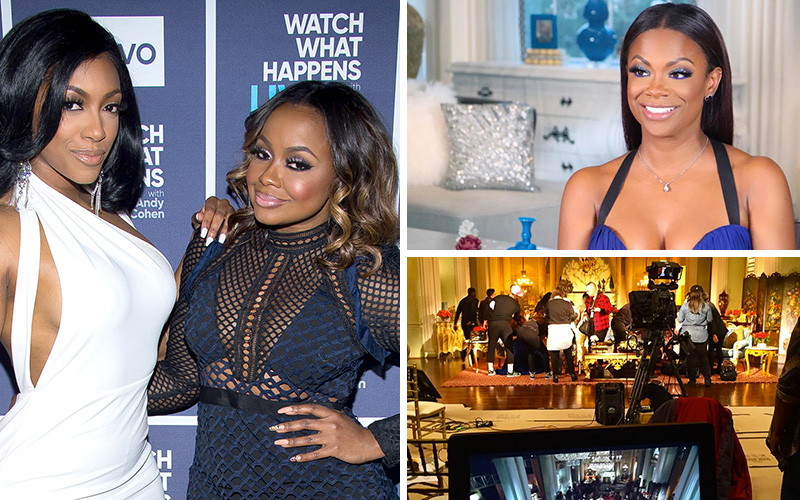 It got off to slow start, but it's been a long and crazy ride and season 9 of The Real Housewives of Atlanta will soon come to an end. However, reports suggest the three-part reunion special is an extravagant gift sent straight from the reality show heavens, even leaving Andy Cohen shook.
The season 9 reunion was filmed last Thursday (Mar. 16) and by all accounts, things got nasty and juicy. The hottest and sweetest tea suggests Kandi and Phaedra go in, "Frick & Frack" may be cracking, and there may be a specific reason why Kandi was in the hot seat this season.
The seating chart for the main housewives leaked, and according to Straight from the A, "Kandi and Phaedra are in the seats that are reserved for battle." Over the years of watching Real Housewives reunions, I've never noticed this before, but seats next to Cohen are prime territory.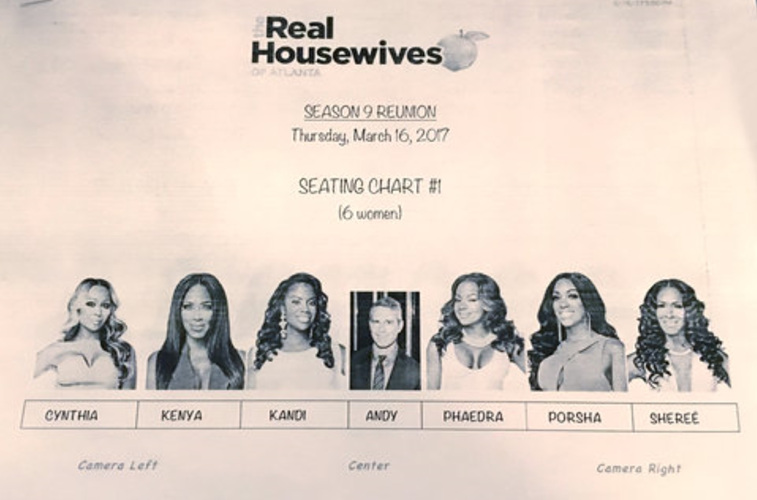 According to several reports, Kandi calls out Phaedra for all the lies she has told during the season. Porsha also comes to realize Phaedra's conniving ways and turns on her BFF. Is this the end of Bravo's Frick & Frack?
Via Straight from the A:
Oddly enough, Porsha even throws her "bff" under the bus by revealing a bunch of the underhanded shenanigans that Phaedra was involved in.

Rumor has it that Porsha is the one who dropped the "explosive bomb" and not Kandi as she allegedly reveals that Phaedra was the sole source of the rumor about Kandi and Todd scheming to "drug Porsha and take her to their sex dungeon."
But wait! There's more. Apparently, Todd Tucker also intimated that Porsha and Phaedra's soon-to-be-ex-husband Apollo had a fling. He says the two were seen around town together a lot before he went jail.
Porsha allegedly revealed she and Apollo "had a moment" in a now-deleted Instagram post. It's not confirmed if the screengrab of the post is authentic.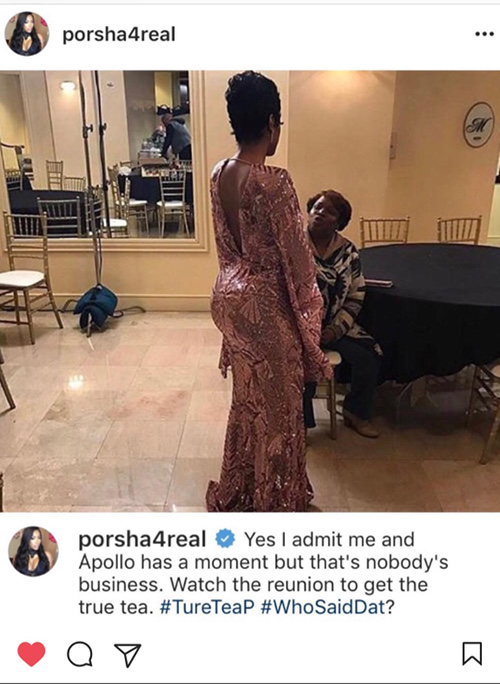 However, many assume it was the Porsha/Phaedra drama not the Kandi/Phaedra drama that caused Cohen to be shook in this Instagram video.
Being outed and "thrown under the bus" that she was one spreading lies on Kandi, Phaedra of course deflected the blame. She allegedly was getting info from friend and RHOA producer, Carlos King.
King previously had business and personal relationships with Todd and Kandi. However, he now apparently has beef with both of them and orchestrated Kandi's intense season by being in Phaedra's ear.
In other news: Sheree and Bob Whitfield's "make-up and break-up" was (allegedly) all faked for a storyline, neither Cynthia and Peter's nor Phaedra and Apollo's divorces are final as they have claimed, and, surprisingly, this is the first time I'm mentioning Kenya in this post.
The Real Housewives of Atlanta airs Sundays at 8 p.m. on Bravo.
Be the first to receive breaking news alerts and more stories like this by subscribing to our mailing list.