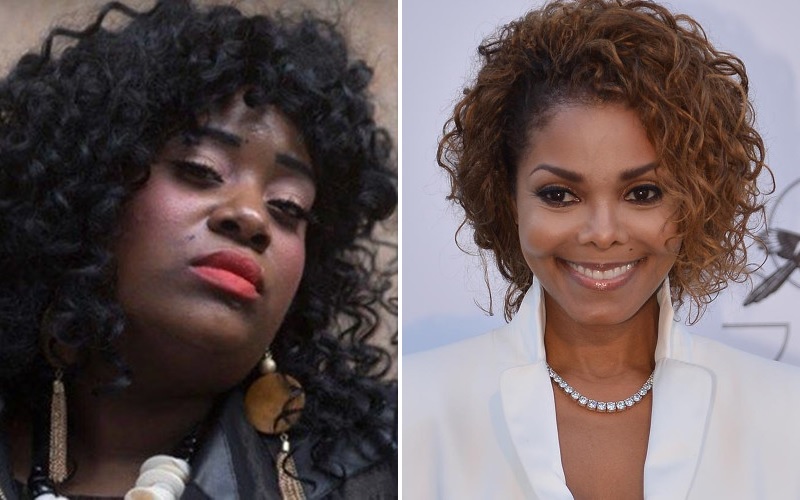 There's another heir to the Jackson throne! That is, if you believe the woman who's claiming to be the secret long lost child of Janet Jackson.
Tiffany Whyte has come forward and revealed in an explosive interview with Radar Online, that she is Janet's first child and was given up for adoption over 30 years ago. Tiffany believes her biological father is Janet's first husband, singer, James DeBarge. The two were married for just over a year and it was annulled in 1985.
"I've been kept a secret a very long time. I want people to know the truth. [Janet] has been denying me for many years. I waited 31 years. I don't want to get famous off of this. Trust me, I don't. I just want my mother. I want my father. I want to know the truth. I want to know her!"
The 31-year-old grew up in foster care and was made aware of her alleged famous parents seven years ago after an unnamed woman sent her messages online.
It has long been rumored that Janet secretly gave birth in the 80's. Several theories have circulated of what happened to the supposed baby and why the pregnancy was kept secret in the first place.
DeBarge gave the rumor new life in 2012 after he claimed in a letter that he and Janet, in fact, had a child that was put up for adoption. The letter was written to Michael Jackson's doctor, Conrad Murray, and was published by Radar.
DeBarge's mother, Etterlene DeBarge, believes Tiffany is her granddaughter. She revealed during an Inside Edition interview that a DNA test found that there was a 96.7 percent probability that she and Tiffany were related.
Tiffany and Etterlene met last year and felt an "instant connection." They have gone on to develop a close relationship. She told Radar:
"I talk to my grandmother more than anyone else in my family. She was the reason why we went forward for the test because I told her I didn't want to do it. I kind of gave up. She said, 'Tiffany, you've come this far and I'm getting older and I need to know the truth. Please, I'm praying to God that you will change your mind and do this test.'"
Inside Edition nor Radar could confirm the accuracy of Tiffany and Etterlene's DNA test.
However, Radar has apparently conducted a test on Tiffany and James. This will prove if the two are father and daughter. Radar is expected to reveal the results next week.
Radar asserts the tests "were given in controlled environments at accredited facilities, and with a Radar reporter present."
Meanwhile, Janet is basking in the glow of the birth of baby Eissa. The 50-year-old welcomed (according to the singer) her first and only child in January with husband, Wissam Al Mana.
Be the first to receive breaking news alerts and more stories like this by subscribing to our mailing list.