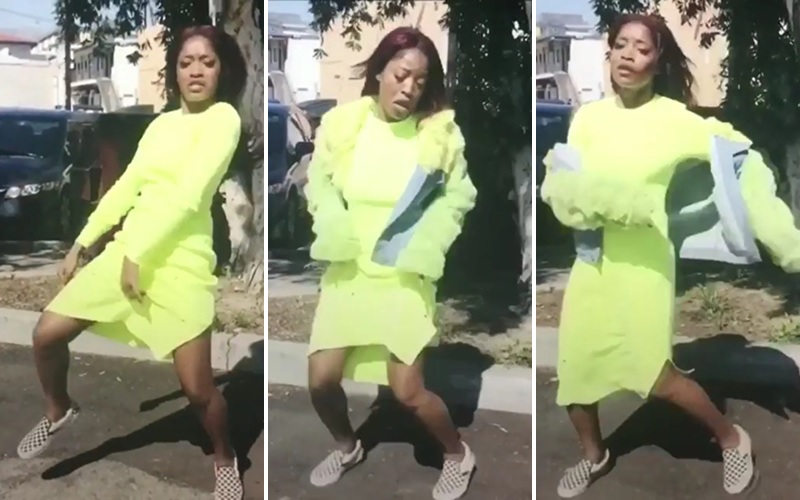 Is it just me or is Keke Palmer starting to turn into one of those Instagram-fame personalities? The talented actress/singer seems to get more attention for her social media antics than for her work. Lately, it's her random dance clips that's got people talking.
Palmer became a trending Twitter topic Tuesday (Mar. 14) after she posted a video of herself dancing to Future's "Mask Off." In broad daylight, the Scream Queens star felt it in her spirit to dance in the middle of the street and create a club meme.
She captioned the video on Instagram:
"When u bored af at the club but yo old n*gga walk through the door and u gotta give a show."
Following the vid, Twitter asked a collective "What is Keke doing?" Many were confused by Palmer's moves and random dance breaks. Others expressed sarcastic concern for the actress, even stating she looked like she's high.
I want the drugs Keke Palmer is on cuz I want to start dancing like a crackhead to some kompa

— Dj Touche"m Dous (@Shiloh_Jah) March 14, 2017
This is Exactly how KeKe Palmer be dancing pic.twitter.com/c2VcyVL2kP

— Summertimepapi (@ThoughtsOfTjay) March 14, 2017
Somebody check Keke palmer and Chris Brown into rehab ….please.

— 20 Something (@tooDYE4) March 14, 2017
https://twitter.com/Nyxnyl/status/841746105217900544
Son Keke Palmer one video away from being in Newark Penn Station

— RellfromApt3B (@RellFromThe973) March 14, 2017
My issues with KeKe Palmer has nothing to do with her dancing and everything to do with her culture appropriating antics

— Tay (@Hey_itsTa) March 14, 2017
Keke Palmer made one successful video hittin a beat and now she posts a video everyday. Jesus ?????

— Kaylah J. ? (@gaugedearsh4wty) March 14, 2017
I'm concerned about Keke Palmer. Why does she look like a crackhead when she dances?

— trapmoneylexi (@HotCocoaTing) March 14, 2017
This isn't anything new for Palmer. She has posted several dance videos in recent weeks. Some on Twitter defended Palmer's Future dance solo and applauded her for carefree attitude.
So folks mad at keke Palmer cause she dancing and feeling carefree? pic.twitter.com/OnTocrk7PE

— DKT (@darleneturner53) March 14, 2017
lol everyone's calling Keke palmer a crackhead… for what lol she's just dancing…. nothing about her behavior implies she's a crackhead

— morgan (@morgscoop) March 14, 2017
will never understand the keke palmer hate. y'all just mad y'all aren't as lit as her lol

— Dinero (@VXODinero) March 14, 2017
https://twitter.com/jahnaimonroe/status/841725310286594050
I thought twitter loved carefree black women but yet y'all making fun of Keke Palmer for dancing pic.twitter.com/0vqp6fUwXR

— ???????????????E. (@UrFavoriteAries) March 12, 2017
I guarantee Keke Palmer could care less about people talkin about her dancing because
1. She got more money that you
2. # 1.

— DEC.5?? (@GiftedNegro) March 14, 2017
Y'all mad at Keke Palmer for……..dancing???????cant relate pic.twitter.com/mjpELAnSea

— amrannnn (@aamvnn) March 14, 2017
Black people confuse me most of the time. Y'all say y'all support black people, but when Keke Palmer dance you guys disrespect her. Like wtf

— KXNG COOGI (@bizzy_bones24) March 14, 2017
Here are other clips of Keke literally dancing to the beat of her own drum.
https://www.instagram.com/p/BRd-B_RBV_m/
Be the first to receive breaking news alerts and more stories like this by subscribing to our mailing list.