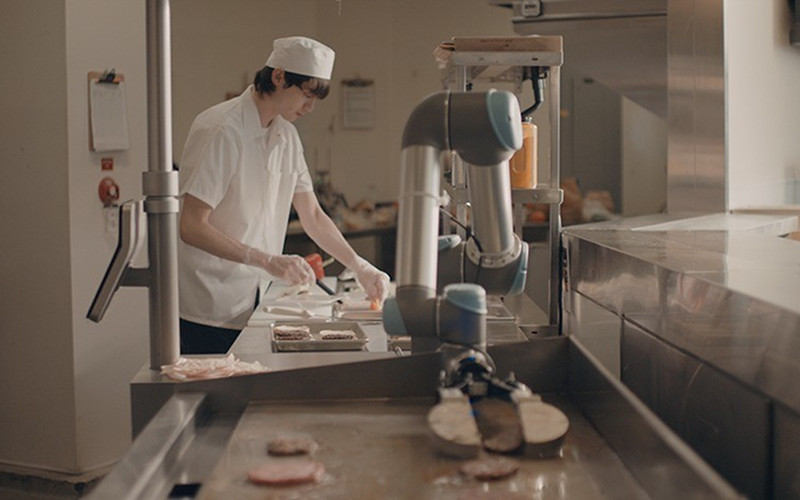 The Fight for 15 may be over before it ever really began. Robots may the way of the future for fast food restaurants. In fact, the future is already here.
"Flippy," the burger-flipping robot has made its way to the States and recently completed its first day on the job. The robot was just introduced to CaliBurger kitchen in California.
Flippy is a robotic kitchen assistant that helps cook burgers on a grill. Cameras and sensors help the robot determine when the burger is ready to flipped; it then places the burger on a bun when it is fully cooked.
The robot was developed by Miso Robotics and can be installed in five minutes, according to the company. CEO David Zito says Flippy is just the beginning of robotic kitchen assistants.
"Much like self-driving vehicles, our system continuously learns from its experiences to improve over time. Though we are starting with the relatively 'simple' task of cooking burgers, our proprietary AI software allows our kitchen assistants to be adaptable and therefore can be trained to help with almost any dull, dirty or dangerous task in a commercial kitchen — whether it's frying chicken, cutting vegetables or final plating."
CaliBurger says Flippy aids in the kitchen by making "food faster, safer, and with fewer errors."
While this new robot technology doesn't automatically leave all fast food workers without a job, it may potentially have serious impact on those working in the industry, specifically those who depend on the income.
CaliBurger plans to have Flippy installed in 50 of their restaurants by 2019. Just imagine if/when fast food giants like McDonald's and Burger King follow suit.
Be the first to receive breaking news alerts and more stories like this by subscribing to our mailing list.