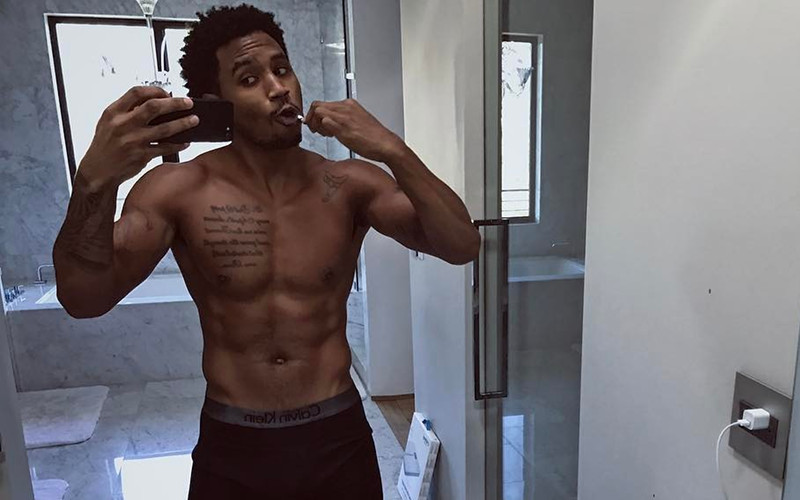 Trey Songz has been having a very interesting few weeks. First, Keke Palmer put him on blast, then he was brought into the middle of the Remy Ma and Nicki Minaj beef, and now the singer's own piece of meat may have hit the net (if you know what I mean).
A 13-second graphic video surfaced online and the rumor is swirling that it features Trey Songz. The "sex tape" features a man and a woman having anal sex. The man's arm tattoo and voice has people believing it's the "Bottoms Up" singer.
Entertainment site Fameolous first leaked the video and Songz has even addressed the rumors on his Twitter account.
Heard I got a sextape! Shit getting interesting – Tremaine The Album 3.24

— Trey Songz (@TreySongz) February 26, 2017
Notice he doesn't exactly deny the video. The singer even uses it to promote his upcoming album, Tremaine. He also acknowledges and take advantage of the free publicity from the Remy/Nicki/Keke situations.
Shameless with the plugs. They just giving the press to me ?????
Tremaine The Album – 3.24.17

— Trey Songz (@TreySongz) February 27, 2017
In January, Palmer accused Songz of "sexually intimidating" her to appear in his music video for the "Pick Up the Phone" remix, which was being filmed during a house party the singer threw. He dismissed her allegations and basically said on The Breakfast Club that the actress wasn't important enough to "sneak" her into one of his videos.
Most recently, Songz was name-dropped in Remy Ma's epic Nicki Minaj diss track, "ShETHER." Remy claimed Nicki has had sex with the Songz. He eventually denied the accusation in an Instagram story video and stated he had respect for both rappers.
"No matter what you heard, I ain't never had sex with Nicki… Ain't nothin' ever went down with me and Nicki, so ya'll can kill the sh*t right now.
https://twitter.com/IamAkademiks/status/835595813233569794
Though she still hasn't responded to Remy's diss, Nicki felt some type of way of Songz's delayed denial of the claim. She deleted the tweet and her silence in regards to Remy herself is deafening.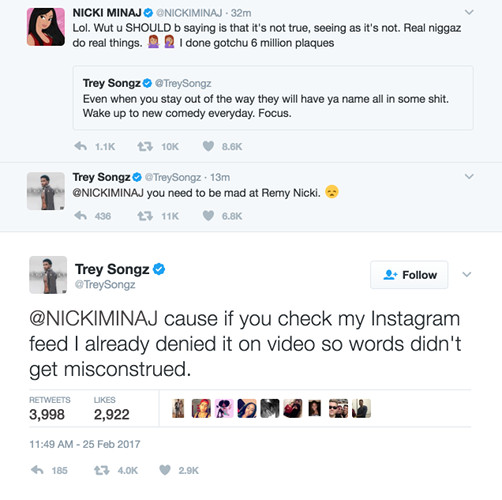 But back to the alleged sex tape. There is no proof the man in the video is or isn't Songz, but this didn't stop people on Twitter from sharing their thoughts – the good and the bad.
I've been waiting for this Trey Songz sex tape forever and all y'all give me is 13 seconds

— Thigh Dollar $ign (@SimplyBritt06) February 27, 2017
https://twitter.com/NylaSays/status/836003660765229057
I just saw Trey Songz sextape now my forehead itch

— tenderoni (@thegoodlif3) February 27, 2017
Me when I find out Trey Songz has a sextape. Me when I find out it's anal. pic.twitter.com/LZm3k0ptpO

— Steven Spielnigga (@_teesie) February 27, 2017
https://twitter.com/BoyTweetsWorld_/status/836322193378324481
You know what I expected a Trey Songz sex tape to drop sooner, he invented sex after all

— Maldita ?? (@lecsotic) February 27, 2017
Be the first to receive breaking news alerts and more stories like this by subscribing to our mailing list.