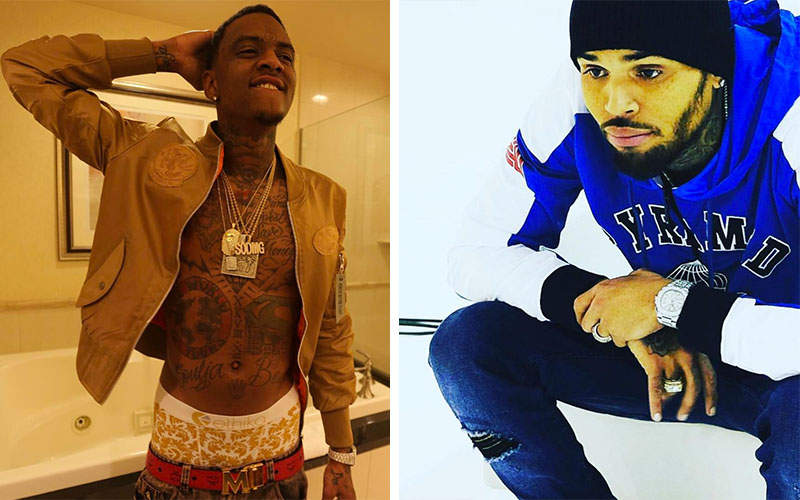 The High-Yellow Tyrant, better known as Chris Brown, and the Tattooed, Goofball One-Hit Wonder, better known as Soulja Boy, started off the new year on the wrong foot.
After a social media war of words, videos and memes over Chris's ex-girlfriend Karrueche, Chris Brown challenged Soulja Boy to a boxing match for charity to settle their beef.
An official poster was created and Adrien Broner said a fight between Soulja and Breezy was set for sometime in March.
So here we are in the middle of February and all has been pretty quiet on more specifics on the Breezy/Soulja fight night. In fact, Chris Brown has been suspiciously quiet and his Instagram feed has been scrubbed of any personal or controversial posts, leaving up only posts that promote his music and his clothing line. It's almost as if an adult has stepped in and advised Christopher to focus on what matters: his career.
Apparently, there's a reason for Chris's silence as the paperwork has apparently been drawn up but he's refused to sign it, according to Wack 100.
For those who don't know: Wack 100 is a manager of both The Game and Ray J. Two negros who stay in some hot mess. He's also apparently Soulja Boy's promoter. So given his track record and his status as being firmly in Team Soulja's camp, he's hardly an unbiased source of information.
But still, Soulja Boy pounced on the news and fired off a tweet storm at Chris, mocking, taunting and laughing at Rihanna's ex for backing out of the boxing match. TheShadeRoom has a nice tidy recap of all of the ranting and raving:
Now I'm not usually Team Soulja, but Chris Brown DID propose the fight, not Soulja. And he made a hell of a lot of noise about how he was going to beat down Soulja to the ground. While I respect that someone in Camp Breezy has stepped in and taken away his Twitter and Instagram access, it's too little and too late. Chris has written a check and now he's gotta cash it.
I know Chris is not backing out because he's scared to lose to Soulja Boy. It's just clear that someone on his team smartly recognizes that being violent on international television is a bad look for Brown, given his checkered history with violence and the law.
But who says common sense should stop a good fight from happening? Come on, Team Breezy, let Christopher knock Soulja Boy out for the good of humanity. It's not like he could cause much more brain damage to Soulja's mashed-potato mental status.
Be the first to receive breaking news alerts and more stories like this by subscribing to our mailing list.