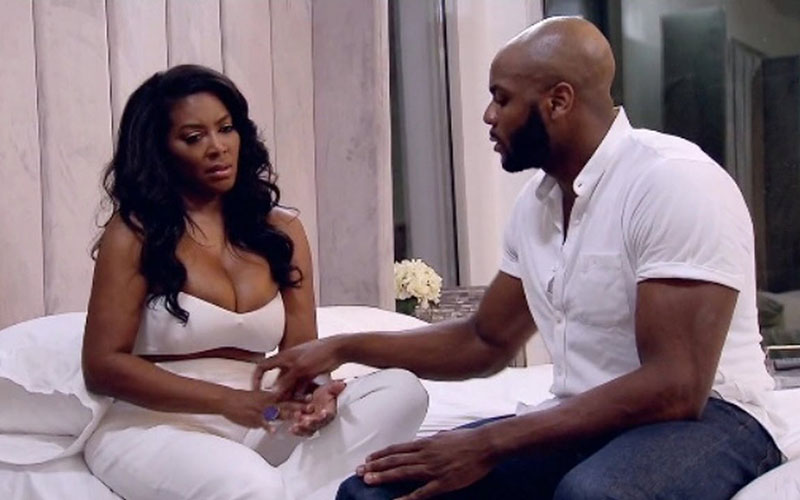 Finding her home and property damaged with broken glass doors and windows was the final straw for Kenya Moore. She finally ended her tumultuous relationship with Matt Jordan, but despite his temper and violent outbursts, she decided not to file a restraining order against her former beau.
In the recent episode of The Real Housewives of Atlanta, Kenya arrived home from a brief trip to Charlotte, to find her glass garage door broken as well as several windows of her Range Rover smashed into. Another glass door of her home was severely cracked and the culprit spray-painted her security cameras.
"What the hell is wrong with him?" Kenya wondered to herself, referencing Matt as he is her immediate (and most obvious) suspect.
She then called Kandi Burruss:
"I just got home from Charlotte and Matt came over here and he broke out windows in my garage and he broke out windows in my car and he spray-painted my cameras… He's just trying to intimidate me and he's lost his mind. He knows I wasn't here. He's not trying to hurt me. He's just getting me to try to respond to him … I feel like I'm obligated to help him."
Kandi and Kenya discussed getting a restraining order, something Kenya's father would also advise.
"But he's not afraid. The restraining order's not going to keep him from coming over here."
Phaedra Parks suggested the idea as well. Though Kenya did contact the police, she ultimately decided against the restraining order.
"I decided not to file a restraining order against Matt. I'm just going to take some time for myself. I don't know what's happening with him. Until I figure it out, there's no future in it."
In the previous episode, while in Charlotte for Peter Thomas' bar opening, Matt allegedly hit Kenya's driver when he would not let Matt in the car to talk to Kenya. Matt presumably took his frustrations out on Kenya's house.
Radar Online actually obtained the August 2016 police report and published it back in November.
Matt's violent behavior has been documented on and off camera. He kicked down Kenya's hotel door in Mexico, vandalized her home on several occasions, and was kicked out their Vegas hotel for violent behavior and destroying their room. It was also recently revealed Matt was arrested four times in 2016 alone.
Though Kenya definitely has her faults and uses men for RHOA storylines, this relationship/arrangement got completely out of hand. It's time to leave Matt behind and move forward.
She also should have gotten that restraining order!
Be the first to receive breaking news alerts and more stories like this by subscribing to our mailing list.