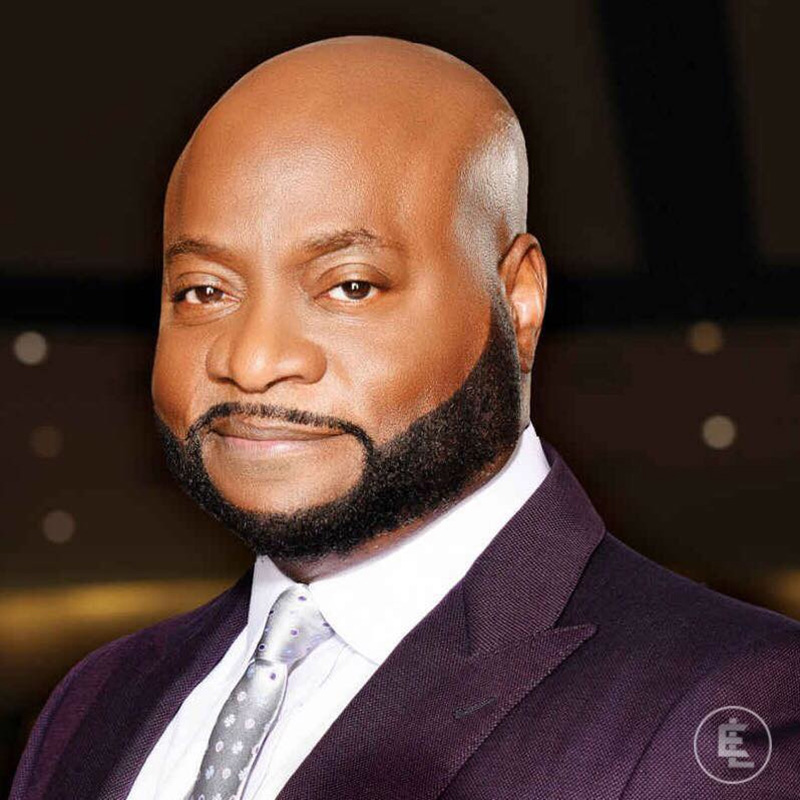 Bishop Eddie Long, pastor of New Birth Missionary Baptist Church in Lithonia, Georgia (near Atlanta) has died, according to numerous Twitter reports.
The Atlanta Journal Constitution and other official news sources have since confirmed the news, reporting (via his church) that the Bishop's cause of death was an "aggressive" form of cancer.
RELATED: Bishop Eddie Long Official Cause of Death Revealed: How Did the New Birth Pastor Die?
News of Long's death was announced at church this morning. From AJC:
"Today it is with great sadness I announce that our bishop has transitioned," Bishop Christopher C. Smith said.

The expectant crowd, many already informed by social media and text messages, wails and shrieks at the official announcement.

"He's no longer in pain,' Smith continues. "He's no longer dealing with the complications that he had to deal with."

A statement released by the church this morning confirms Long died early Sunday morning after "a gallant private fight with an aggressive form of cancer."

The statement adds Bishop Long maintained his commitment to God as he proclaimed that cancer would not kill his faith nor his spirit.

First Lady Elder Vanessa Long, Bishop Long's wife of 27 years said she is confidant through her belief in God that her husband is now resting in a better place.

"Although, his transition leaves a void for those of us who loved him dearly, we can celebrate and be happy for him, knowing he's at peace," she said.

Long delivered his final message to New Birth as the church ushered in 2017.

"He told the church that God was already working in our favor and what we have been praying for was already manifested," the statement says.
BREAKING NEWS: @BishopEddieLong, pastor of New Birth in ATL, has died. He was 63.

— rolandsmartin (@rolandsmartin) January 15, 2017
I just heard that Eddie Long has passed away. WOW.

— Marc Lamont Hill (@marclamonthill) January 15, 2017
My heart is heavy, but God is in control. See you in the rapture Bishop Eddie Long. It was my honor to serve New Birth for 12 years.

— Byron Cage (@RealByronCage) January 15, 2017
BREAKING NEWS: This just in … New Birth pastor EDDIE Long is DEAD at the age of 63. #eddielong

— BlackMediaScoop (@BlackMediaSCOOP) January 15, 2017
https://twitter.com/brandnewhiphop_/status/820642927797997568
His last tweet from his own Twitter account was nearly 24 hours ago:
RESIST the spirit of weariness and discouragement!#YouAreVictorious pic.twitter.com/8MG1ujfEwn

— Bishop Eddie L. Long (@BishopEddieLong) January 14, 2017
Bishop Long has largely been out of the spotlight since recent reports emerged that he was battling a "grave" illness. In late December 2016, the infamous Bishop returned to the pulpit looking noticeably thinner than his last public appearance.
RELATED: Bishop Eddie Long Reemerges Looking Sickly Thin, Social Media Shocked by Pastor's Drastic Weight Loss
Months before, in September 2016, Long admitted he was dealing with a "health challenge," though he never confirmed (or denied) what the illness was. But whatever the sickness was, it made him virtually unrecognizable and sparked a lot of discussion/speculation on social media.
Back in August, the controversial pastor appeared in a video showing off a shocking new slim physique, which he attributed to a new diet that consisted of him eating raw vegetables instead of food that could be found on what he called the "slave menu."
"I said to my congregation that I'm going to live to be 100 years old, maybe add a few more years. But you know what, I wasn't going to get there by stopping by Popeyes," he said in the video. "That was my weakness. The biscuits with honey and chicken wangs, spicy, and all of that. Many of us are still eating from a slave menu, you need to check that out."
The video was followed by an official statement from Long and New Birth confirming that he was "recovering from a health challenge."
"I am recovering from a health challenge that I trust God to deliver me from," the statement read "It is unrelated to the eating for life diet consisting of mostly raw vegetables that I am continuing, as part of a holistic approach to good health. At this time my family and I are requesting that you respect our privacy. I truly appreciate your prayers and support for me, my loved ones and my beloved New Birth Church Family."
In 2010, four men accused Long of coercing them into sexual relationships as teenagers. The lawsuits were settled out of court the following year, and details of the settlement and Long's plea were never officially disclosed. Bishop Long took a leave of absence from his church in December of 2011.
Charges were also never pressed against Long, due to the age of consent in Georgia being 16 years old, and all four boys were 17 or older at the time they claim the sexual misconduct happened.
Be the first to receive breaking news alerts and more stories like this by subscribing to our mailing list.