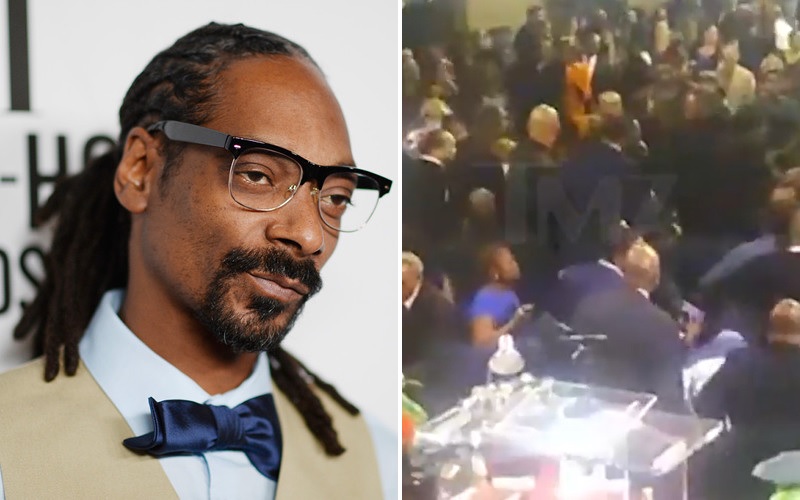 "It's sad. They're fighting at a funeral… It's so disrespectful!"
Actress/comedian Sherri Shepherd was in utter dismay while attending comedian Ricky Harris' funeral Tuesday (Jan. 3). An actual fight broke out during the service and she caught it live on Periscope. Snoop Dogg was at the center of the fight.
https://twitter.com/SherriEShepherd/status/816408774508302336
TMZ released exclusive video footage of the melee:

According to reports, a man rushed into the church and attempted to come for Snoop, who grew up with Harris in Long Beach and was a longtime friend. The man, who is reported to be Harris' cousin, called Snoop a "b*tch ass ni**a."
Two members of Snoop's crew were able to tackle Harris' cousin before actually getting to Snoop and was taken out of the church by Snoop's bodyguard. However, the attempted attack still sparked a massive brawl.
Shepherd reported via Periscope:
"It's so disrespectful. Oh my gosh, it is so disrespectful. We're at Ricky Harris' funeral, and we're about to go see the body, and someone came in the funeral home and went towards Snoop, and Snoop's bodyguard tackled him and it was just a big fight and it was so disrespectful to Ricky Harris."
Following the funeral, Snoop reflected on the service on Instagram. He only briefly mentioned the fight, but mostly kept his comments on honoring his friend.
"Beautiful service today. Oh yeah – the devil is a mothaf**kin' lie. Yeah, he is. We had a great time, great service. Rick, your spirit lives on by the LBC's finest. Rick Harris, rest in paradise."
Harris was a comedian best known for his role on Everybody Hates Chris. However, he often collaborated with Snoop and other hip hop artists, appearing on albums such as Snoop's Doggystyle and Ice Cube's AmeriKKKa's Most Wanted.
He died Dec. 26 from a heart attack. He was only 54 years old.
Be the first to receive breaking news alerts and more stories like this by subscribing to our mailing list.