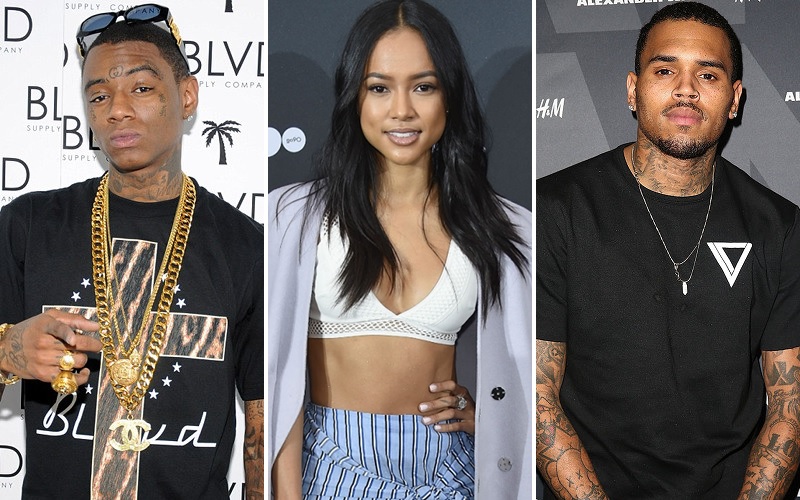 It's 2017 and Chris Brown is still as controlling and possessive as ever. The singer is currently embroiled in an all-out beef with Soulja Boy and it's all because of Karrueche Tran and an Instagram comment.
The beef started Monday (Jan. 2) after Soulja left several heart-eye emojis on one of Karrueche's Instagram post. Though they broke up two years ago, Chris can't help but give into his possessive ways and apparently called Soulja Boy and told him to leave his ex alone.
According to Soulja, Chris also threatened to beat him up if he didn't back off. The rapper retaliated by exposing Chris' threats on social media and instigating the matter.
https://twitter.com/souljaboy/status/816114240087998464
https://twitter.com/souljaboy/status/816115458935922688
https://twitter.com/souljaboy/status/816156466507714560
https://twitter.com/souljaboy/status/816162220690132992
Chris did not take the bait for a long time, but he eventually responded to Soulja with a few social media videos of his own. He doubled-down on his threat to "whoop [Soulja's] ass!"
"I just fucking woke up and they gonna text me, and I'm gonna screenshot it. It said, 'Yo n—a this Soulja.' N—a continuously called me on FaceTime. He probably wanna squash it because he know I'm serious. But, 1, you're stupid… So, why the f–k are you calling me? Don't FaceTime me n—a. You can be gangsta from here, look; You can pop your chest from here; You can do all that; look. Boy, stop it. I'ma whoop your ass. Adrien Broner, set up the gym bro."
https://www.instagram.com/p/BOznoowlQzI/
So, Soulja retaliated with a video calling out Chris' physical altercation with Rihanna, saying "do that sh*t to me pu**y ass ni**a!"
https://twitter.com/6PAPl/status/816183942449692672
https://www.instagram.com/p/BOzlNZpF_Gw/
Here are other clips Chris posted and more of Soulja's instigating tweets.
Chris bitch ass aint even trending no more. But I am lmao irrelevant ass woman beater. can't wait to see this fuck nigga don't shake my hand

— Soulja Boy (Drako) (@souljaboy) January 3, 2017
The difference between me and Chris is I shot a Nigga before. And he hit a woman before. We not the same ? #BigSoulja

— Soulja Boy (Drako) (@souljaboy) January 3, 2017
From now on @chrisbrown name is Bobby brown ???? #CokeBrown

— Soulja Boy (Drako) (@souljaboy) January 3, 2017
https://twitter.com/souljaboy/status/816277369040142338
So, what does Karrueche have to say about all this? Karrueche stayed out of it for as long as possible, but she eventually shared her piece on Instagram, given that she was inadvertently the spark that lit the match.
"First off this drama between both of these two is so ridiculous it makes no sense. We just brought in a new year and what we doing?? Leave the extra'd out, rah rah s–t behind. This isn't cool or funny..it's draining…

second off..trying. to. make. me. feel. poppin? You talking about your old song 'Poppin'? You know what makes me feel poppin? Getting up and going to set.. walking in my apartment and seeing my Emmy with my name on it…

I been chillen…working..eating my veggies..hitting these squats and minding my own business and that's exactly how I want to keep it."
Even she wasn't safe from Chris' rants. He responded in the comment section, insinuating she owes all her success and popularity to him because she's riding his coattails.
"Noone asked for this opinion!! It ain't over you… Notice how much attention you weren't getting until I put, 'Still want it,' under your picture… All your friends are your friends because you were Chris Brown's girl! And the other friends you still talk to… I f**ked. So, advice from b**ches that had my d**k in their mouths is really not informative."
After Karrueche's response, Soulja feels he won the war of words between he and Chris and their beef should be over now.
https://www.instagram.com/p/BOz7Y4LFE5J/
Unfortunately, all this is actually happening. Two grown men fighting over a woman that doesn't want either one of them. And it's only the third day of 2017!
For the record, this is the post/comment that got Chris all fired up:
Be the first to receive breaking news alerts and more stories like this by subscribing to our mailing list.