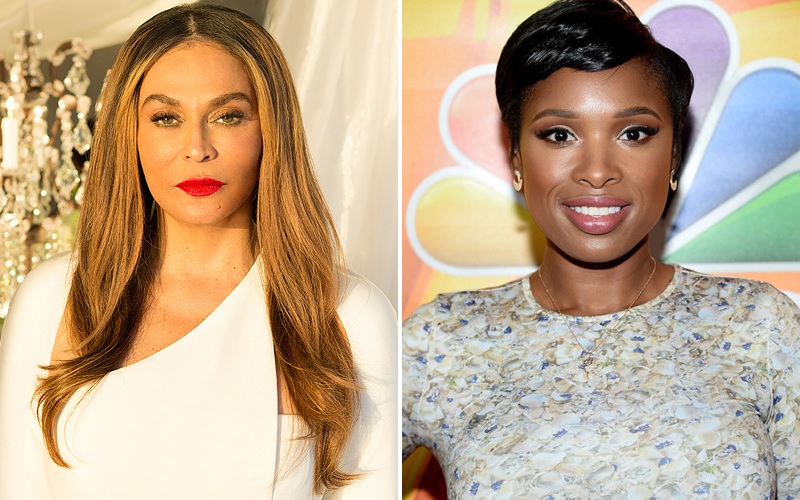 The first celebrity feud of 2017 may have just been sparked by an "accidental" like and a cryptic social media response.
Tina Knowles Lawson recently announced she is taking a break from social media after facing heavy backlash for "liking" a negative comment about Jennifer Hudson. Days later, Hudson posted a possible clapback to Miss Tina's shade. Here's how it all went down.
Last week, Lawson was on Instagram scrolling through videos of her daughter, Beyoncé, performing. She came across a vid of Beyoncé and Hudson performing a song from Dreamgirls at the 2007 Oscars. However, social media quickly noticed Lawson had "liked" a comment that stated "Jhud sounds horrible."
Many assumed Miss Tina was throwing shade at Hudson. However, Lawson took to her own Instagram account on Wednesday (Dec. 29) to address "evil mean people" and clear up all the confusion. She explained she was unaware of the mistake and assured Hudson and everyone else that she would never say or condone any negativity.
"I am writing this commentary for Jennifer Hudson and not for the evil mean people that are making this into a social media ugly thing. I've known Jennifer Hudson for many years and have totally been in admiration of her talent and beauty and kindness I would never ever say anything negative about her or agree with anything negative!

"…I am not a hater and I am not negative about people so to Jennifer for my mistake of accidentally touching it which I don't remember doing I really apologize I totally love and Admire you"
She even added Beyoncé and Solange had warned her about social media and were "worried" that she "might accidentally touch something when looking at other sites." The lesson-learned moment has caused her to take a step back from social media for a while.
Despite Lawson's apology for what seems to be a genuine slip of the finger, did Hudson clapback with a post of her own? Heading into 2017, Hudson posted cryptic message on Instagram on Friday (Dec. 30) of her New Year's resolution.
It's unclear what sparked Hudson's post, but many speculated it was a passive response to Lawson's social media gaffe. Though the timing is interesting, it could also very well just be a coincidence.
Here is the clip that has caused all of the uproar:
https://www.instagram.com/p/BOdX7u7FVKz/
This also isn't the first time Miss Tina has found herself in a battle with social media. Back in June, she blasted those on social media who accused her of lying after she accepted an award on Beyoncé's behalf at the BET Awards.
Queen Bey opened the show with a surprise performance and quickly left the venue afterwards. Lawson explained Beyoncé had a performance in Europe to get to, but fans knew the performance wasn't until a few days later.
Be the first to receive breaking news alerts and more stories like this by subscribing to our mailing list.