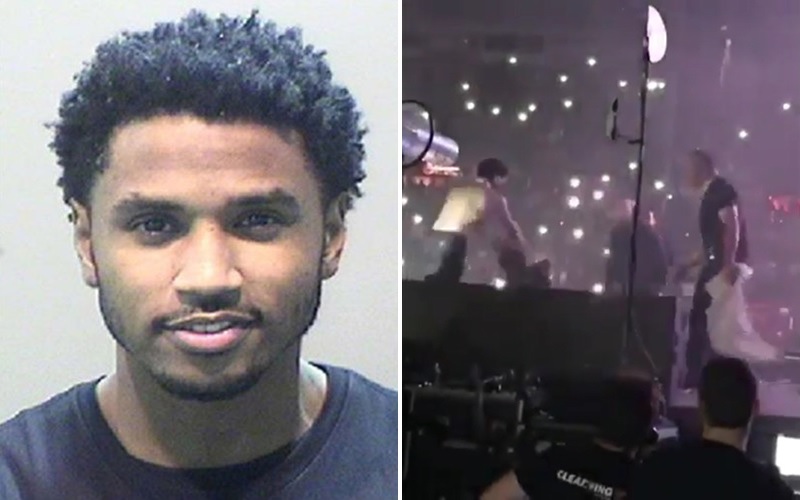 Trey Songz lost his mind while onstage and got himself arrested. The singer was arrested Wednesday night (Dec. 28) and charged with aggravated assault and assaulting a police officer. He has since been released after posting a $25,000 bond.
Songz was performing at Detroit's Joe Louis Arena when he was told that his set was running too long and needed to leave the stage by 11:30. Someone threatened to cut his mic off if he didn't comply. The singer told the audience:
"If a ni*ga cut me off, I'm going the f*ck crazy, you understand?"
https://www.instagram.com/p/BOlde9eBeR-/
And that's exactly what he did!
Songz began throwing microphones and speakers from the stage. Someone was hit in the head by one of the flying objects and Songz allegedly punched a police sergeant, causing a concussion. The officer was treated and released from a local hospital.
Detroit police officer Dan Donakowski said:
"He was told his set was over, that he would have to get off the stage. At which time, he became irate and started throwing objects [from] the stage; speakers, microphones, anything he could get his hands on."
TMZ reports the singer was silent while in court and didn't even enter a plea himself. The court entered a not guilty plea on his behalf.
Detroit reporter Koco McAboy covered Songz arrest and captured his release from police custody on camera.
Inmate says @TreySongz has been signing autographs and sang "Silent Night" while at the Detention Center. @Local4News

— Koco (@KocoMcAboy) December 29, 2016
Watch the moment @TreySongz got released from jail. Fans went crazy. We will have the full story at 5. pic.twitter.com/4jqN5thltN

— Koco (@KocoMcAboy) December 29, 2016
Trey Songz could face a prison sentence and fines if convicted. His next court date is Jan. 5.
Be the first to receive breaking news alerts and more stories like this by subscribing to our mailing list.