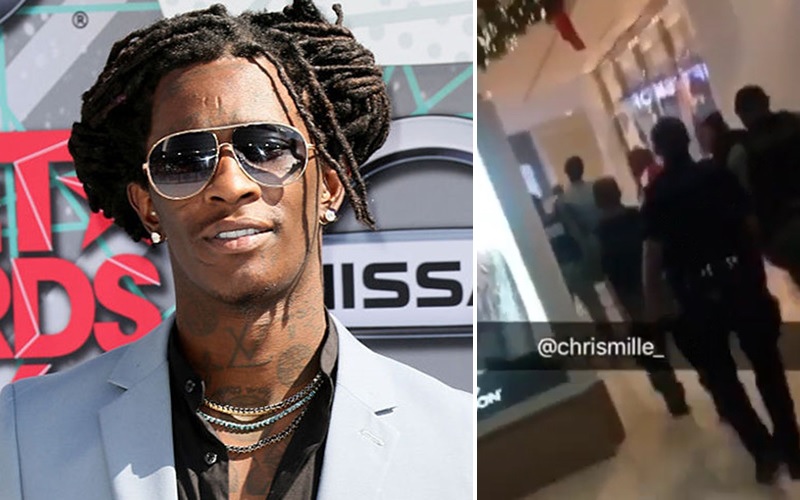 Rapper Young Thug was reportedly arrested while shopping at Lenox Square Mall in Atlanta.
Thursday evening (Dec. 22), reports of his arrest began making the rounds after an eyewitness posted a video of the arrest on Instagram. The video shows a man who resembles Young Thug being escorted out by police.
Details regarding the arrest or the charge(s) are very minimal as of now. However, reports suggest Thugger was shopping in the Fendi store with his entourage and longtime girlfriend, Jerrika Karlae, when authorities showed up.
It was even suggested the amount of money the rapper was spending in the store may have alerted the staff, but this claim is unsubstantiated.
The man who recorded the now-viral video of the arrest (@Chrismille_) exclusive spoke to VladTV to share his eyewitness account of the situation.
Via VladTV:
The eyewitness told VladTV that he watched police "rudely interrupt" Young Thug while he was shopping and "forcefully" place him in handcuffs. The eyewitness added that US Marshalls were in the mall to arrest Young Thug, all while his longtime girlfriend Jerrika Karlae was by his side, making sure that he was safe in police custody.
Later Thursday night, Thugger seemed to have been released from police custody. He posted a video on Instagram of himself being carefree at, what looks to be, a Waffle House diner. The post has since been deleted.
Be the first to receive breaking news alerts and more stories like this by subscribing to our mailing list.