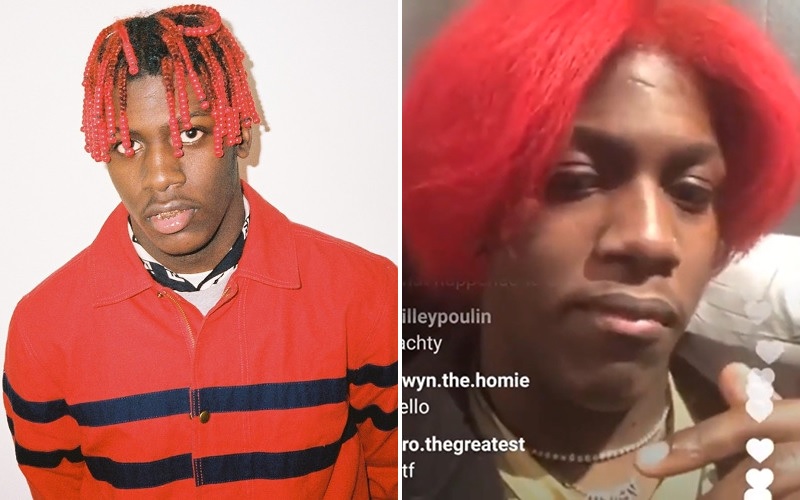 I believe 2017 will be the year of major changes. However, nothing in the world could have prepared me for what Lil Yachty just did to his hair!
The 19-year-old rapper has traded in his signature braided and beaded style for something completely different: a perm. Yachty stated his 2017 will be the "year of life" and then debuted the self-described James Brown-inspired hairdo during an Instagram Live session.
2017 is the year of life level Up.

— underdog (@lilyachty) December 20, 2016
"See this right here? The James Brown look, you know? I'm working on my album. This look means seriousness. This hair do means hits. And to Funkmaster Flex, this means a lot of mumble rap."
He and Flex have been beefing on social media after the radio DJ referred to Lil Boat's music as "mumble rap."
Though Yachty says the new hairstyle is going to bring him hits, Twitter says the perm is a miss. Many memes and jokes popped up after the rapper revealed his new 'do.
https://twitter.com/SarahWatkins12/status/811047783612420097
Lil yachty already taking L's and then he gon do a live broadcast with his hair like that ? comedy honestly mood.

— Sawn (@_itsmango) December 22, 2016
https://twitter.com/6PAPl/status/811256372549603329
This nigga said Lil Yachty hair look like a bloody cotton ball ????? I'm fuckin done b…

— Wavey Rell (@NoSuckaShit) December 21, 2016
Y lil boats hair look like the troll dolls hair ??? @lilyachty pic.twitter.com/eWEfnERgQW

— Austin (@tooturntjex) December 20, 2016
Lil Yachty look like a DC comic villain with that damn hair.

— ?Kazuya? (@LeadnLikeMoses) December 22, 2016
Ladies…be honest. How many of you have/had this same exact hair as #LilYachty at a point in your life? ? pic.twitter.com/OkxlSbVKFd

— TATV (@TAlexanderTv) December 20, 2016
Why does Lil Yachty look like a struggling ex stripper named Peaches with his hair permed? pic.twitter.com/xKpP9fjfHR

— Breazy Taylor (@BreazyTaylor) December 21, 2016
Yachty saw how Twitter was feeling about his hair and responded to a fan requesting he go back to wearing braids.
You must not have known before I was a rapper ppl was laughing at my hair since forever. Before beads and braids was " re-cool" https://t.co/yuJfwRvnbo

— underdog (@lilyachty) December 21, 2016
The perm is definitely an interesting choice to say the least. That's about the best I can do (you know it looks a hot mess). But yea, if this is what 2017 is going to look like, I ain't ready!
Be the first to receive breaking news alerts and more stories like this by subscribing to our mailing list.