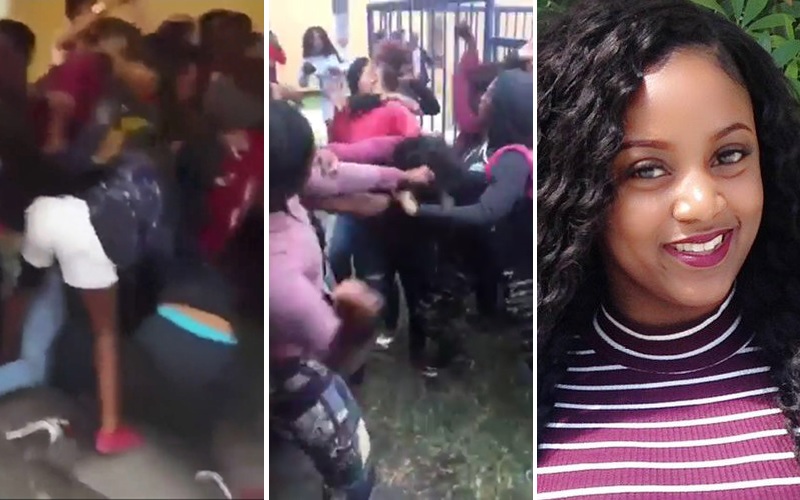 A group of Florida high school girls are facing criminal charges after attacking and knocking out a fellow student on school grounds. The bullies even recorded themselves celebrating after the fight.
Tajzhana Hammond says she was jumped by a group of girls around 11 am on Thursday (Dec. 8). Spectators recorded the fight on the cell phones instead of helping. The footage shows several girls pulling Hammond's hair, while several others punch and hit her.
Hammond says school security failed to intervene in a timely manner and security cameras did not capture the attack. She posted cell phone footage on her social media accounts and the videos went viral.
https://twitter.com/ADollAdorn_X0/status/807379795545849856
Hammond then posted footage of the group of girls bragging about jumping her while being held in the principal's office.
https://twitter.com/ADollAdorn_X0/status/807683026880700416
The Plantation High School senior recounted the attack to CBS Miami:
"One of them just took me by my hair and started hitting me and another took me by my head and started hitting me. They never let me go, they kept hitting me in my head… They kept hitting me again and again. I even like blacked out."
Hammond says she felt dizzy, had a headache, and was in pain. She later received medical treatment, but the school reported no physical injuries.
Two other girls, including Hammond's cousin, were also jumped by the group of girls on Thursday.
The teen's mother, Helen George, says the brutal beating was a culmination of months of verbal bullying, which the school failed to address. George even says the school's principal advised her not to report the attack to authorities because "it would make Tajzhana look bad."
"I told the principal, I said, 'Look at the video. They're celebrating that they beat up my daughter.'

"I want justice and for these girls to pay for what they've done to my child, and I want their moms to know what I am going through."
A spokesperson for the school system initially said "some of the students involved will receive the appropriate disciplinary actions." However, with the emergence of video footage, Detective Robert Rettig told CBS Miami that "criminal charges are pending against multiple offenders."
Hammond, who is interested in fashion, says she has been bullied by the group of girls since she transferred to the school a few months ago. She believes the girls misjudged her as "snobby" due to her fashion choices and for "looking different."
The senior will not go back to Plantation High School on Monday and plans to transfer back to her old high school.
Be the first to receive breaking news alerts and more stories like this by subscribing to our mailing list.