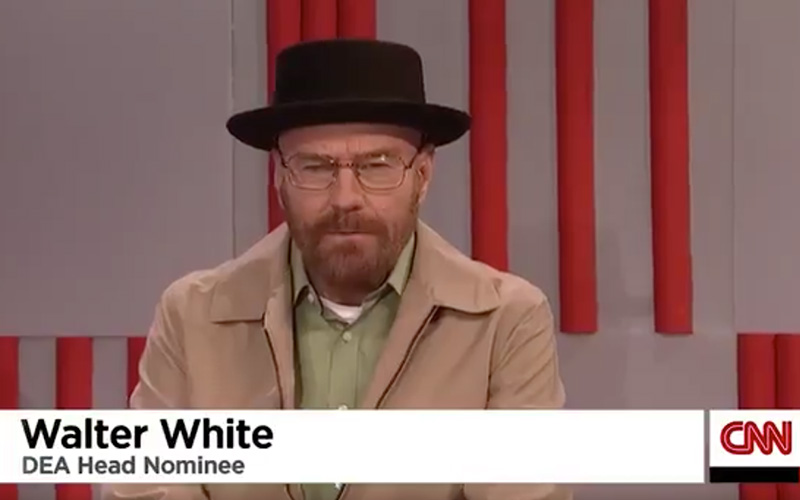 The majority of Americans (and I mean that literally) knew that a Trump presidency was not a good idea. But when he was elected, most tried to ease their fears by saying, 'Well, maybe he'll surround himself with some good people and it won't be all that bad.' We were fools to think such a thing.
Don't believe me? Trump's head of the EPA has sued the EPA multiple times in the past and advocates for oil and fracking. The new boss of the Department of Education, you know, the person who is responsible for overseeing our public education system, has spent her career advocating for the privatization of schooling. And let's not forget his leader of the Department of Interior, or Secretary of State, or the White House Chief of Staff.
Really, everyone Trump has picked to man his cabinet has been an eyebrow-raising pick. So on Saturday (Dec. 10), SNL, which has been so famously roasting Trump since his election, decided to announce his latest appointment — the head of the Drug Enforcement Agency.
And who better to take that role (according to Trump's logic) than notorious meth-dealer Walter White. Bryan Cranston revisited his groundbreaking role as the teacher who broke bad on Saturday to announce that he has been tapped to head up the drug enforcement agency.
Welcome to the Trump administration, Walter White. #CenaOnSNL pic.twitter.com/aPaceUQcO0

— Saturday Night Live – SNL (@nbcsnl) December 11, 2016
"I know the DEA better than anyone, inside and out," Cranston said.
When asked how he was chosen, White explained that he was found on the Chief of Staff's website Breitbart News in the comments section: "You know, I'm really surprised he tracked me down because I've kinda been off the grid for a while."
And as to why he would want to work for Trump, he said, "I like his style. I also like that wall he wants to build. Nothing comes in from Mexico, meaning, a lot less competition for the rest of us."
While hilarious, it does point out the ridiculousness that is the reality of Trump's cabinet. But, since there's really not much we can do about it, we might as well sit back and enjoy the next four years of SNL. Because I'm pretty sure they are going to have plenty of material to work with.
Be the first to receive breaking news alerts and more stories like this by subscribing to our mailing list.