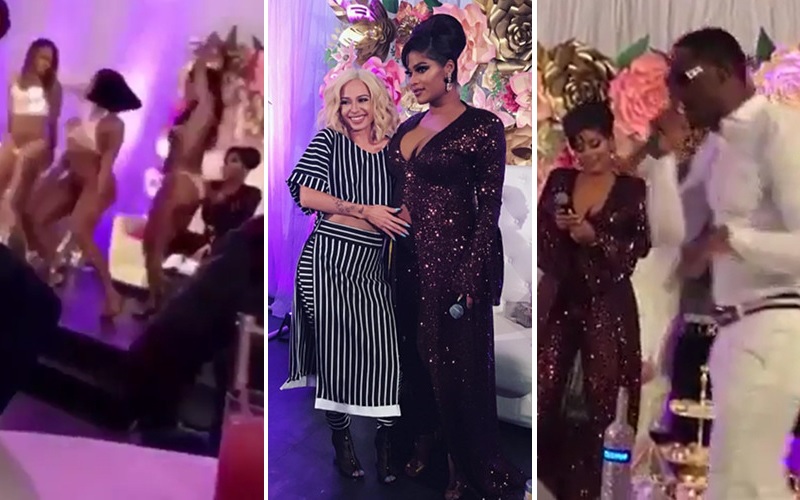 Baby Bonnie Bella is almost here. But if it's one thing for sure, Joseline Hernandez's baby shower was lit!
Friends came to celebrate the Puerto Rican Princess' impending motherhood. However, this party was not your typical shower with goofy games and practical gifts. Joseline's baby shower was turned all the way up with strippers, musical performances, and very graphic cakes.
Strippers at a baby shower is definitely strange, especially when you're pregnant with a daughter. But on the other hand, this is Joseline we're talking about. Video footage even shows the expectant mother receiving a lap dance.
Guests apparently had several cake options to feast on, but one particular cake stands out from the rest. It depicted a woman (presumably Joseline) giving birth in a bathtub. And yes, the baby is crowning.
Does this mean Joseline is having a natural water birth? I guess we'll found out when her VH1 "delivery special" airs. A camera crew was seen filming the festivities.
Joseline posted other photos and videos from the unique event, including a few of the famous guests. Love & Hip Hop stars Yandy Smith and Mariahlynn, as well as Love & Hip Hop Hollywood's Miss Nikki Baby came to celebrate Bonnie Bella's impending arrival.
https://www.instagram.com/p/BN2eXSSgIjg/
One person that wasn't spotted at the baby shower, however, was Stevie J. This is kinda strange given the two seemed to be on good terms barely a week ago, after Stevie posted a video on Instagram. They were even looking forward to the baby shower.
Just a few days ago, the two were in court after Stevie claimed Joseline physically assaulted him because he had another woman hanging around his house and bed.
Though Stevie J was absent, the other man who has been rumored to be the father of Joseline's baby attended the shower. Rapper Young Dro performed for Joseline. He is also rumored to be a new cast member of LHHATL.
https://www.instagram.com/p/BN3LEuYgsBm/
Joseline's baby shower will certainly be one to remember. Bonnie Bella is expected to make her debut in January.
Be the first to receive breaking news alerts and more stories like this by subscribing to our mailing list.