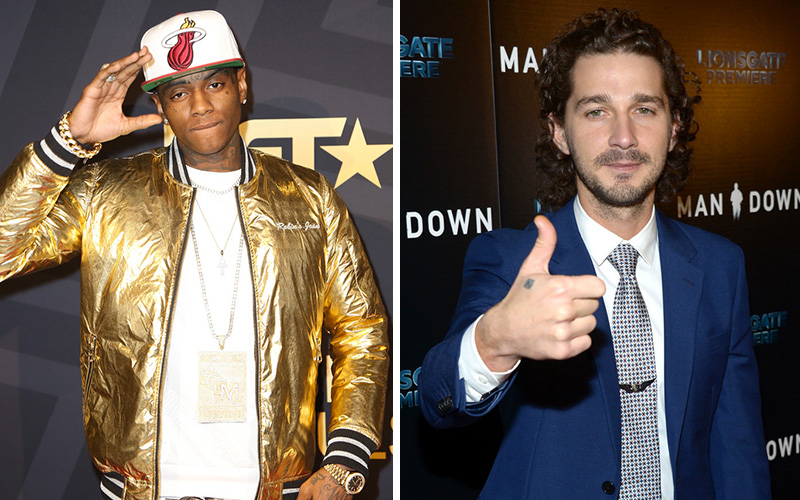 So Shia LaBeouf trying to be a rapper is a thing. The actor who will always be Stanley Yelnats in my mind has been honing his rapping craft for a while, sometimes busting out a freestyle in the park, because why not?
Recently, he's made the jump from looking like a homeless man rapping in nature to freestyling on The Breakfast Club. And it was at that moment that Shia fucked up.
During his freestyle, he went after everyone from Peter Rosenberg to Drake to Lil Yachty. And while calling out Yachty, the Even Stevens star put Soulja Boy's name in his mouth, and Soulja didn't appreciate it.
"You a bitch ass nigga, you can't never come to Atlanta, you can't never come to the streets in the hood," Soulja Boy says in a video posted to Instagram. "You can never live my life, you need to stick to acting, real shit nigga."
So it seems Soulja Boy has taken it upon himself to straight up ban Shia LaBeouf from Atlanta. He claims that Shia doesn't understand that this shit can get real, and he's better off sticking to acting.
https://www.instagram.com/p/BNk-bJWhjQE/
Soulja Boy continued, "This rap shit ain't for you, nigga, for real have some nigga pull up on you, fuck Shia LaBeouf…Nigga, fuck you talking about keep my name out your mouth, you don't want no beef, on my mama, you better stick to acting nigga cause this shit get real."
Well, grab some popcorn, everybody, because the Shia LaBeouf/Soulja Boy beef is heating up. Today Shia responded to his banishment from Atlanta with a new freestyle.
"I'm an accessible spectacle/I'll be in Atlanta when my schedule is flexible," he raps in his new "Hat Trick Freestyle."
The ball's in your court now, Soulja.
Be the first to receive breaking news alerts and more stories like this by subscribing to our mailing list.