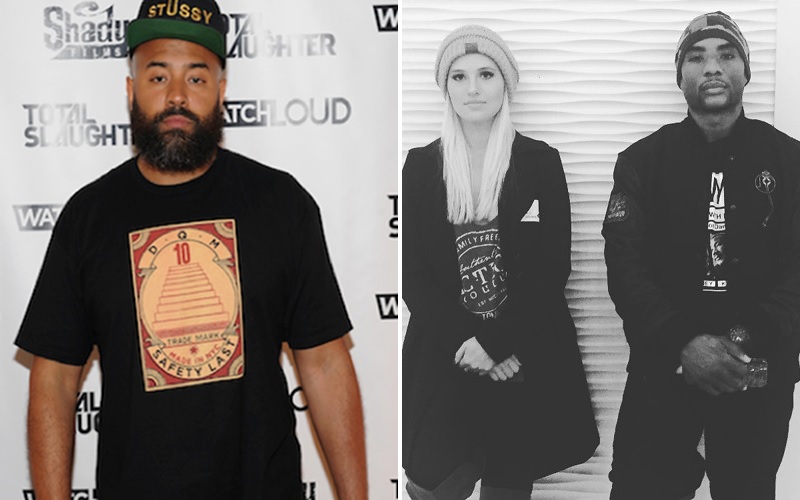 Hot 97 is not here for rival Charlamagne tha God's budding relationship with conservative pundit Tomi Lahren. Hosts Ebro and Peter Rosenberg went on air Tuesday (Dec. 5) to blast Charlamagne claiming it's "slave mentality" for the Power 105 personality to seek white acceptance.
As host of her web show, TheBlaze, Lahren's ultra-conservative views have sparked heavy debates, specifically on Twitter. She's compared the Black Lives Matter movement to the KKK, criticized Colin Kaepernick and Beyoncé, and is a staunch Donald Trump supporter.
Lahren recently appeared on The Daily Show with Trevor Noah to discuss their differing opinions. The two later had drinks together at hotel bar.
Following the Daily Show appearance, Lahren and Charlamagne were seen strolling down NYC streets, hoping to understand each other's perspectives better. The Breakfast Club host even asked the 24-year-old white woman if she believed "black penises matter."
So yeah, none of this is sitting OK with Ebro and Rosenberg. "What I'm seeing is what I call slave mentality taking place," Ebro says of Noah and Charlamagne. However, his rant continues to specifically target Charlamagne.
"The problem I have today is that you're trying too hard to be accepted by mainstream White America… You do not have to get on TV and Sambo like that, bro." He even calls out the host for allegedly bleaching his skin.
Ebro was also joined by Rosenberg via phone. However, Rosenberg went on his own rant over Lahren & Charlamagne (and Noah) on Twitter.
https://twitter.com/Rosenbergradio/status/804921873968594944
https://twitter.com/Rosenbergradio/status/804922166642872320
https://twitter.com/Rosenbergradio/status/804924443596390400
https://twitter.com/Rosenbergradio/status/804926376776204288
Charlamagne has not addressed the issue verbally, but he did post a "positive note of the day" on Instagram shortly following Rosenberg and Ebro's rants.
Be the first to receive breaking news alerts and more stories like this by subscribing to our mailing list.