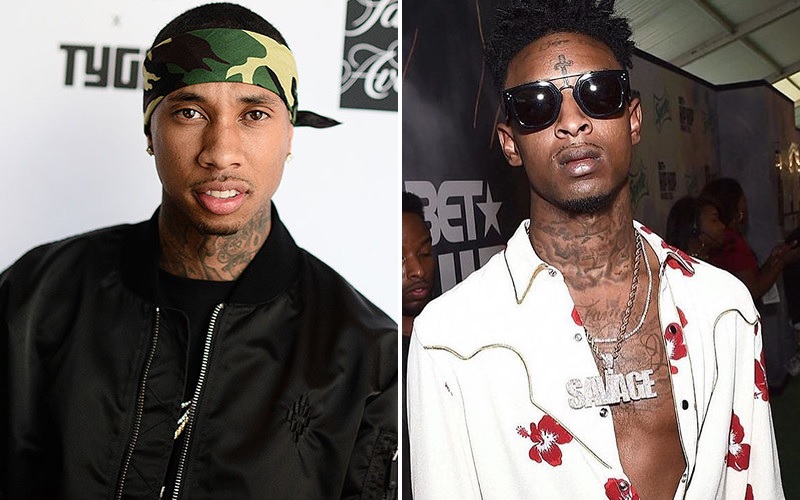 A rap beef is brewing and it's all because of Kylie Jenner. Tyga and 21 Savage have been going at each other for the past few days and Tyga is, apparently, even planning to release a diss track.
21 Savage has made it very clear that he's attracted to the youngest Jenner sister. He's posted comments and pictures on social media and recently told TMZ he would "tear that ass up." Social media even chimed in thinking the three are now in a love triangle.
Tyga is getting fed up and seems to working on remix of 21's "No Heart" as 21 Savage diss track. Jenner shared a snippet of the song on Friday (Dec. 2). Tyga can be heard rapping:
"Why you got one car in a 12-car garage?
Suckin' dick for a Ferrari / Don't forget to lick the balls"
https://twitter.com/iDailyRapFacts/status/804913174210367488
Tyga is referring to a Ferrari Drake gave 21 as a gift for his birthday. But isn't Tyga out here getting his Ferarri and all his other cars repossessed? Don't play yourself, man!
21 didn't let the diss slide though. "So what's up with all that Instagram shit, Tyga?" he said on stage Friday (Dec. 2) while performing "No Heart."
"so wassup with all that Instagram shit Tyga?" ? @21savage @Tyga pic.twitter.com/DSdsa4tIVO

— ?? alicia ?? (@aliciabcalvo) December 3, 2016
Jenner is not staying silent either. It wasn't too long ago that she was jamming to 21 on her own Snapchat, but she's taking her boyfriend's side in this fight.
She responded in the comment section of a repost of a video in which 21 seemingly threatens Tyga. "How you start the problem then get mad when the person responds?" the Tyga fan asked in response to the video.
Jenner's response:
"Cuz that's what bitches do."
https://www.instagram.com/p/BNjUFFIFwzP/
21 took to Twitter to say the video was old and the entire situation has gone too far.
it ain't dat serious mf posting old ass videos this shit done went to far it was funny at first

— Saint Laurent Don (@21savage) December 3, 2016
Meanwhile, he's still posting pictures of his crush, most recently on Friday (Dec. 2).
https://www.instagram.com/p/BNibxONgel-/
The "Savage Mode" rapper is right. The "love triangle" was funny at first and 21 was most likely just clowning, but Tyga is now taking things to new level. All involved need to chill at this point, especially Tyga because we know he can't handle a real rap beef.
Be the first to receive breaking news alerts and more stories like this by subscribing to our mailing list.