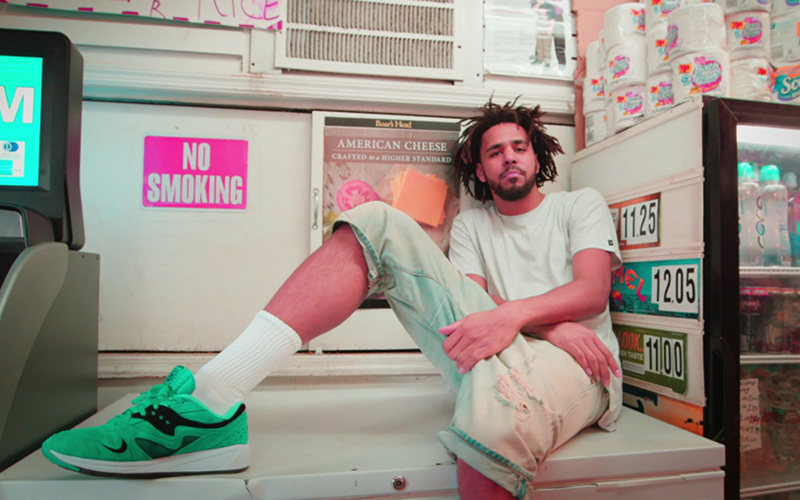 In just a matter of hours, J. Cole has become the hottest topic in hip hop. The rapper surprised fans by announcing his fourth studio album, 4 Your Eyez Only, will be released next week (Dec. 9). However, it's the album's accompanying documentary, Eyez, that's really got people talking.
Released exclusively through Tidal, Eyez is a 40-minute behind-the-scenes look into Cole's creative process. The North Carolina native and his team are seen fine-tuning instrumentation for the project such as violins, saxophones, and trumpets. He also stresses how he wants to just make authentic music.
"You get to this height or this level of your career in terms of platform, and who's to say – the next one might go down, could go up. You're never guaranteed to be this high again. So while I'm here, let me use this opportunity to say the realest s**t I have ever said, in case the next time that shit is down here."
And he definitely got real! Eyez contains two visuals for tracks that are presumably titled "Everybody Dies" and "False Prophets." The latter is causing quite the buzz as many believe Cole is taking direct shots at Kanye West and Wale.
Lyrics from "False Prophets":
Ego in charge of every move, he's a star/And we can't look away due to the days that he caught our hearts/He's fallen apart, but we deny it/Justifying that half-ass shit he dropped, we always buy it/When he tell us he a genius but it's clearer lately/It's been hard for him to look into the mirror lately/There was a time when this nigga was my hero, maybe/That's the reason why his fall from grace is hard to take

Maybe it's my fault for idolizing niggas based off the words they be rapping/When come to find out these niggas don't even write their shit/Hear some new style bubbling up, then they bite that shit
Social media has definitely reacted to "False Prophets," Eyez, and the upcoming album.
https://twitter.com/OhhSoArrogantT/status/804658036002422784
Other Rappers listening to False Prophets…#JCole pic.twitter.com/LtOfLjef23

— OG Millhouse (@4thAndBearded) December 2, 2016
If you don't like J. Cole's False Prophets, it's because the song hits too close to home for your favorite rapper. Cole is too nice.

— Nick Marino (@Nick___Marino) December 2, 2016
J. Cole's new song "False Prophets" is one of those "If the shoe fits, wear it" tracks. He simply made a general assessment of the rap game.

— NUFF (@nuffsaidny) December 2, 2016
https://twitter.com/King_Vonn1/status/804674583672614912
False prophets is just an observation, not a diss

— Man of the Hour (@_darianjones) December 2, 2016
https://twitter.com/cthagod/status/804688062429220864
https://twitter.com/cthagod/status/804652120473473024
J Cole firing shots ?https://t.co/jmqyBH9Wrn

— Nick (@NicksGg) December 2, 2016
https://twitter.com/alinathequeenx/status/804609995425845253
This J. Cole album bout to be legendary once again

— You Joanin? (@Ayye_pap) December 2, 2016
Eyez is available for both subscribers and non-subscribers of Tidal. 4 Your Eyez Only is expected to drop next Friday (Dec. 9).
Be the first to receive breaking news alerts and more stories like this by subscribing to our mailing list.