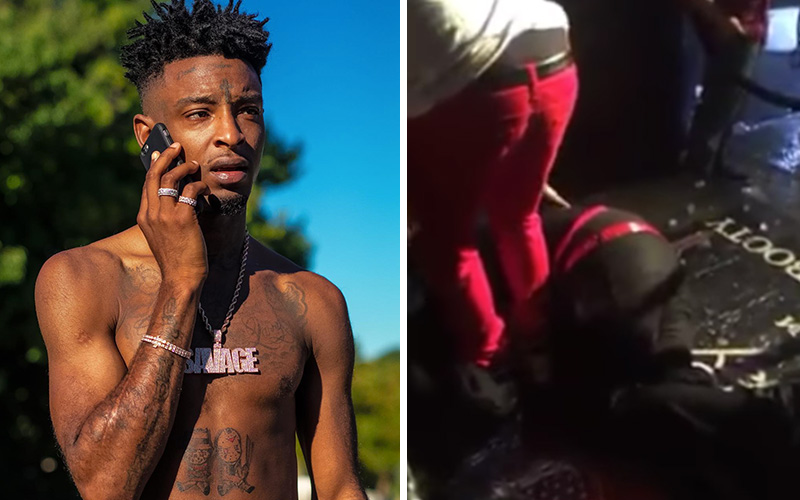 21 Savage is known for two things: his blatant savagery (hence his name) and his boring stage presence, which is kind of like watching someone do something they really don't want to do.
One of those two things could be the reason why he was allegedly attacked while performing a show in Arizona the other night.
But did it REALLY happen? That's the question everyone wants to know following reports saying the Hip Hop newcomer got knocked out with a bottle on stage.
According to a rumor picked up by some blogs, the "X" rapper "got knocked OUT COLD" during a concert in Arizona this past weekend.
There's even this grainy-ass photo being passed around online as "proof" of the knockout:
As well as this video footage, which basically shows a whole lot of nothing:
And here's the story (via MTO):
According to multiple reports, 21 Savage had some kind of ISSUES with a local gang, but he decided to put on a show for fans anyway.

While performing, the local goons started THROWING BOTTLES on stage. One KNOCKED OUT his security (dude with the baldy), and another knocked out 21 Savage (in the red behind him).

The rapper was reportedly rushed off the stage mid-performance.
Cool story, bro. Only… it didn't really happen, and we knew that before 21 Savage released this video response denying being knocked out:
https://www.instagram.com/p/BNaDVuuBFUb/
"If you believe that shit you a fucking idiot. You think I'm finna let somebody touch me? We do all the knocking outs around this motherfucker. Nobody over here getting knocked out ever in life. If I got knocked out, my jewelry would be all over the Internet. Fucking idiots."
Well, he does have a point…
It's 2016 and virtually EVERYONE has smartphones. If a popular, up-and-coming rapper with multiple hits on the Billboard Hot 100 really were to get knocked out on stage while performing, there would be video of it happening, and not just the aftermath (as seen in the footage above).
You would also expect to see a ton of first-hand social media accounts from people who love to revel in the misery of others (which is what the Internet is for after-all, right?).
Anyhow, there's nothing to see here. So, to answer your question, NO, 21 Savage did NOT get knocked out with a bottle … even though if that did happen, it would probably be more interesting than his performance.
Seriously, dude needs to learn some stage presence.
Be the first to receive breaking news alerts and more stories like this by subscribing to our mailing list.