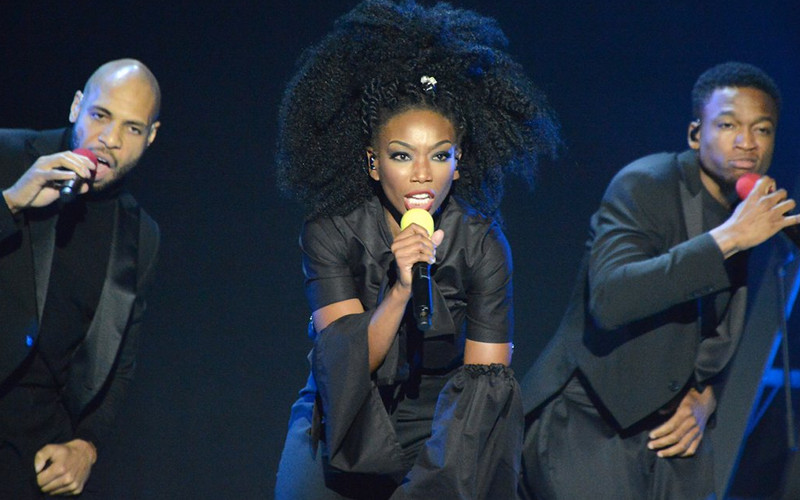 Brandy couldn't help but take what could have been an amazing, iconic moment and make it a little messy. The singer was the recipient of the Lady of Soul award at the 2016 Soul Train Awards. However, her 9-minute performance has been tainted by seemingly throwing shade at Monica during her set.
Brandy performed a medley of hits from her career, including "Almost Doesn't Count," "I Wanna Be Down," and "Top of the World," which brought out Mase for a surprise appearance. She noticeably skipped over the classic "The Boy Is Mine" (which earned the singer her only Grammy), but not before she used the catchy intro as an interlude to "Talk About Our Love."
Social media quickly noticed Brandy changed the lyrics to "Talk About Our Love" and believe Brandy intentionally threw shade at Monica.
It's always something / Talking ish again / Then ya whole fanbase jumps in / Now the whole gram's buzzin
Why is Brandy still throwing subliminal shots at @MonicaBrown with these lyric changes. #SoulTrainAwards pic.twitter.com/JxDPvh86un

— Flewed Out Season (@quitfeenin) November 28, 2016
For the past few months, Brandy has been in this one-sided feud with her former duet partner. She has thrown shade Monica's way time and time again through social media posts and comments. Monica has chosen to take the high road each time.
The Soul Train Award diss is no different. Monica responded to a fan on Instagram after becoming aware of Brandy's latest petty move.

Monica is right: Brandy is a legend and a "vocal beast." In fact, her Soul Train Awards medley could arguably suggest her voice is better than ever. However, instead of reminding us why she is "Lady of Soul," she put her name the in hat for the "Lady of Shade" award.
But the shade didn't just end on the stage. Brandy collected her award and took to Instagram to shade the "So Gone" singer one more time for the day; this time, dragging Queen Whitney Houston into the mess.
Brandy paid homage to the late Whitney by reflecting on their relationship. "Everybody wanted what we had/have and I am blessed enough to have been your friend," she wrote. It sounds innocent enough, but the IG tribute comes just days after Monica spoke about her own special relationship with Whitney on OWN's Where Are They Now?
https://www.instagram.com/p/BNXeufjB6CZ/
A little more tea for ya, too: Tamar Braxton is joining Brandy's "Shady Bus." Since the Whitney post, Tamar began following Brandy and also liked the post in question. Tamar was a little salty recently after Monica guest co-hosted The Real, possibly aiming to take Tamar's empty seat.
https://www.instagram.com/p/BNXiwIVBT3A/
Whew! All of the talent both Brandy and Tamar have is being wasted on throwing petty shade at Monica. It's like they're auditioning for an all-black remake of Mean Girls (the 40-year-old edition, obviously).
Getting back to more positive Brady vibes, here is her FULL Soul Train Award performance.
Be the first to receive breaking news alerts and more stories like this by subscribing to our mailing list.