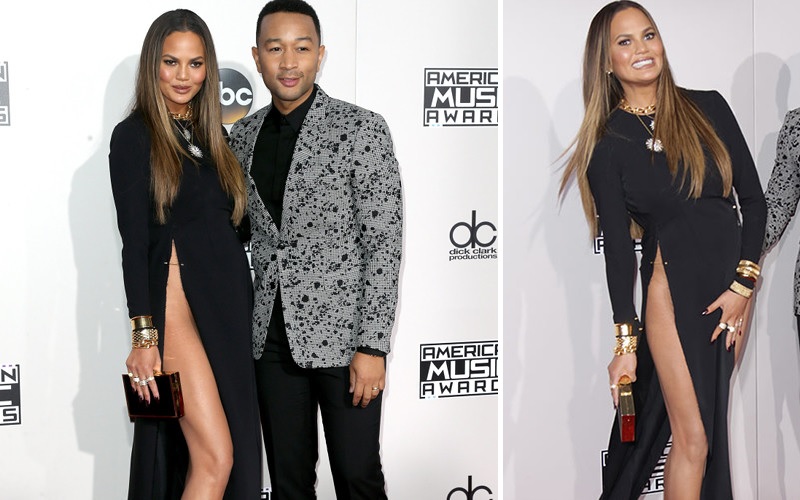 Chrissy, girl! What were you thinkin?! Chrissy Teigen walked the American Music Awards red carpet alongside her nominated husband John Legend. The model wore a daring black dress that, unfortunately, lead to a wardrobe malfunction that left nothing to the imagination.
Teigen knew she was going to be the talk of the red carpet as soon as she slipped on the black number. Apparently, the new mom really wanted to show off her post-baby body. She wore a floor length dress with slits on both sides that went all the way up to her torso and no underwear.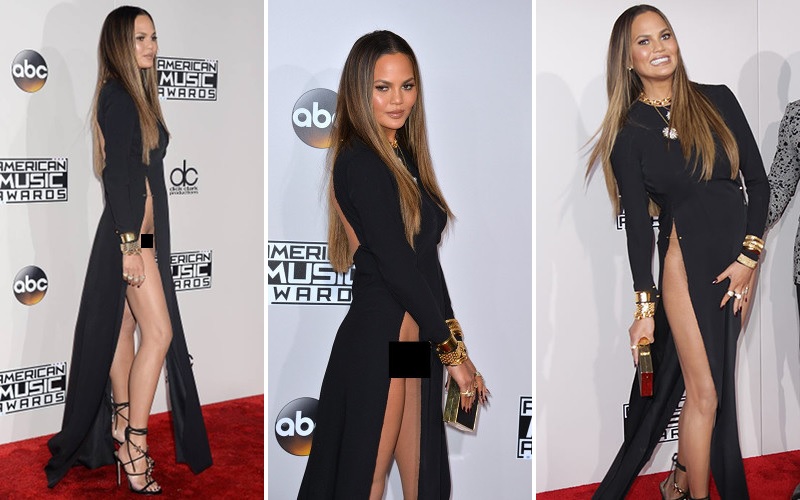 A stylist must have attempted to prevent the inevitable, by using safety pins to hold the slits in place. They didn't work. One wrong pose and the model's naughty bits got its 15 seconds in the limelight.
Luckily, there was no wardrobe malfunction on live TV as she introduced Legend's performance of "Love Me Now." However, she was bleeped multiple times as she got a little too real about the presidential election.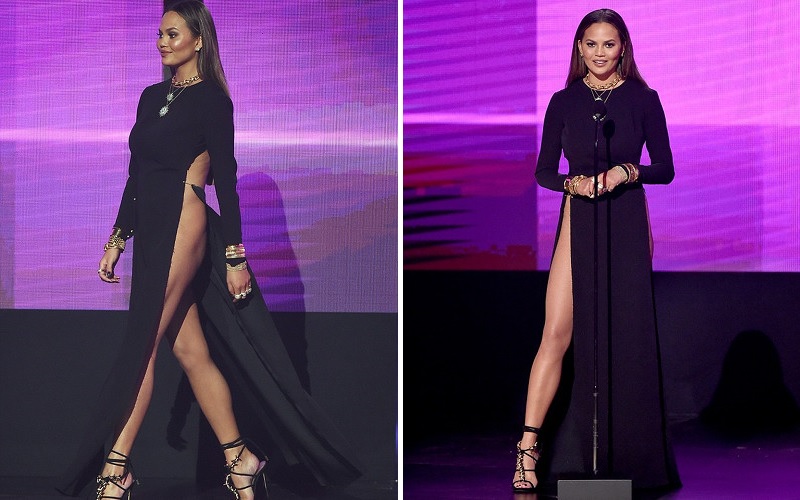 "So this next performer is a brilliant musician and a wonderful father, who makes a pretty damn good breakfast sandwich. And he has been known to write love songs about me. What can I say? I'm very inspiring. But his songs are bigger than either of us. And on the heels on what's been a really interesting f***ed up, f***ing election for all of us, I think we could all use a little love tonight."
Between the risky dress, the hint of va-jay-jay, and several f-bombs on live TV, Chrissy Teigen definitely had an eventful night. But isn't that why we love her so much? She always keeps it real and handles every situation like a boss! Plus, how can you hate on that adorable awkward smile?
Be the first to receive breaking news alerts and more stories like this by subscribing to our mailing list.