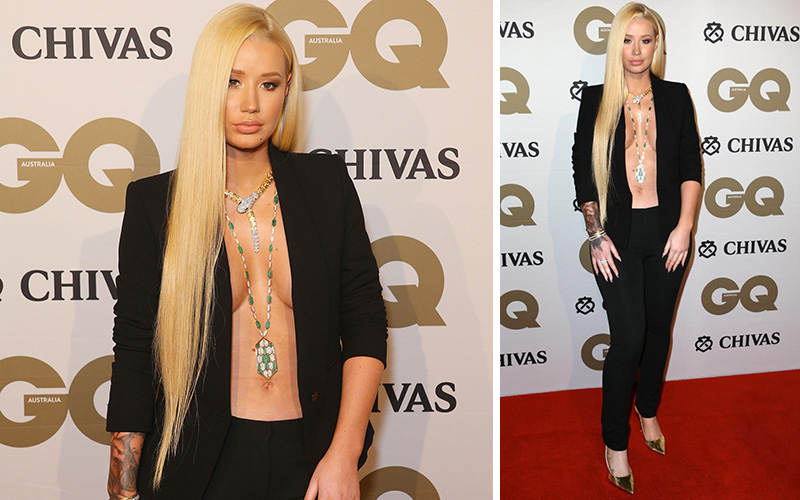 Iggy Azalea is happy to know that her vagina wins awards, and she isn't afraid to let the world know about it.
She may have become the laughing stock of rap music over here in the United States, but over in her home country of Australia, she's still a pretty big deal, which probably explains why GQ Australia decided to present Igloo Australia (sorry, that never gets old!) with the "Woman of the Year Award" Wednesday night (Nov. 16).
While accepting her award, the X Factor Australia judge — who showed off her boob job, rocking a black blazer with no shirt underneath — boasted about her "award-winning vagina."
"I didn't know everybody was going to have such hilarious speeches and I didn't prepare anything foolishly," she joked to the crowd. "Thank you GQ for this award. I have won a lot of awards over the last few years but this one means the absolute most to me because I can finally say I have an award-winning vagina."
Jon Hamm echoed Iggy's sentiment later in the night when he received his award for "International Man of the Year."
"This is amazing for me. I got the best vagina in the world," the Mad Men star joked in his acceptance speech. "How do you say no to that? I guess the short answer is you don't. You just say, 'Yes, this vagina is phenomenal.'"
While it may sound like it came out of nowhere, Iggy's "award-winning vagina" joke seemed to reference a comment she made in her interview with GQ magazine prior to receiving her award.
"I'm excited [about my award]," she said in this month's issue of GQ. "I like to call it 'Vagina of the Year' though. I don't know why it cracks me up, I just think it's funny to reduce myself down to a vagina sometimes."
She added, "'Vagina of the Year' is a big achievement, number one Australian p***y. People won't get the joke, but it's funny because [in the media] women are reduced to vaginas. Some days I'm a vagina, others I'm a human."
Despite her having an award-winning vagina, Iggy Azalea has had a pretty rough year.
In addition to breaking up with her cheating NBA star fiancée Nick Young (who plays for the Los Angeles Lakers and welcomed his second child with his baby mama less than five months after his split with Iggy), she got dragged on social media by the BeyHive for saying that Beyoncé's "Becky with the good hair" lyric on "Sorry" was "racist" towards white women. And on top of all of that, she's facing a $1.5 million lawsuit from Atlanta producer Jon Jon Traxx.
Honestly, her GQ award is probably the highlight of her crazy year, so it makes sense that she's happy her vagina allowed her to receive an award. Now, whether it's deserving of such an honor, we have no idea, but her rumored boyfriend French Montana might know a little something about that.
Be the first to receive breaking news alerts and more stories like this by subscribing to our mailing list.