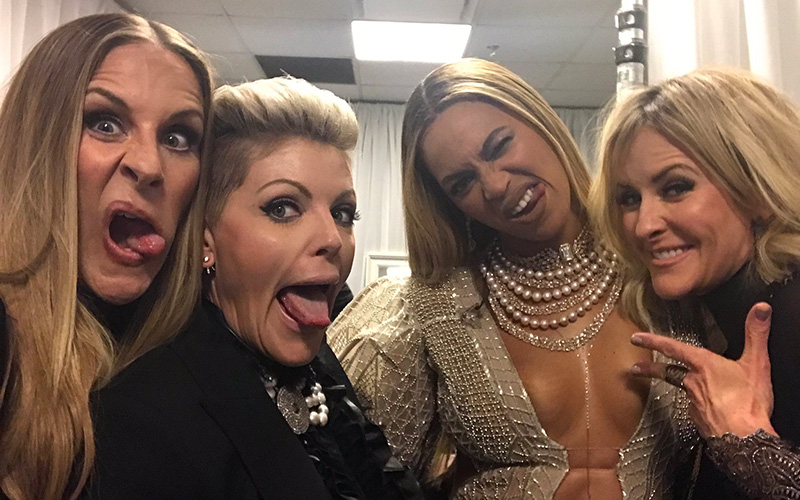 Beyoncé and the Dixie Chicks brought the house down Wednesday night (Nov. 2) at the 50th annual Country Music Association Awards with a joint performance of Daddy Lessons, a song from Beyoncé's critically acclaimed visual album Lemonade.
But, you wouldn't know that if you decided to check out the CMA's official website or their social media pages. Why? Because they deleted all traces of the quartet's performance.
Don't believe us? Well, carry yourself on over to their Twitter or Facebook pages, scroll until you get to November 1st, and come back and let us know if you see anything about Beyoncé and the Dixie Chicks. As a matter of fact, don't even waste your time because you won't see anything. It's not there. It's as if the performance NEVER EVEN HAPPENED.
Even the official website of the Country Music Association, CMAWorld.com, was completely scrubbed of any mention of Beyoncé and the Dixie Chick's performance. (FYI: They later added her picture to the performers and presenters page in the Awards section, but that was after they were called out about deleting her in the first place.)
Sources directly connected with the CMAs tell TMZ the honchos folded to fans who posted racist and other harsh comments. We're told the honchos were especially concerned about the reaction to Beyonce's support and the support of the Dixie Chicks for the Black Lives Matter movement.

Some of the comments included, "That's right folks. Beyonce performed at the CMAs last night & is on a mission to take country music away from us, hardworking white people!" And, "Beyonce overrated racist n***er bitch." The comments go on … "@Beyonce the cop hater? No thanks," and, "What place does @Beyonce who vilifies police officers who keep us safe have to do with #CMAawards50?"

In addition to its website, the CMAs have scrubbed the women from all social media platforms. They did not delete the women from Snapchat … they only deleted the ladies from CMA accounts where users can place comments.

We're told the CMA people "just want this to go away" and feel it was probably a mistake to invite the 4 women in the first place.
We already knew racist white people weren't too enthused with Beyoncé's performance (they expressed as much on social media when it was announced earlier that day), but it's a bit distressing to know that the organizers of the show felt the need to cater to them and "just want this to go away."
They were happy to use Beyoncé to bring in those extra eyeballs, and once the sh*t hit the fan, they deleted everything and pulled a Homer Simpson:
All because of ridiculous, nefarious, racist comments like these:
#Boycott @CMA since it wants to have a cop hater like @Beyonce on our country music show. She's not ruining our music.

— Barbara Platt (@blp3) November 3, 2016
https://twitter.com/Mona_Horton/status/793997372678225920
And this is an actual comment we witnessed on a People.com article about Beyoncé's presence at the CMAs:
Wow. Just … WOW. And this is the type of stuff that is "normal" in 2016?
Now that the story of them washing everything Beyoncé from their website and social media pages has gained some traction, the Country Music Association is trying to save face by reposting a photo from Beyoncé and offering this piss poor excuse of an explanation that they're calling a statement (via Billboard):
"CMA has not erased any mentions of Beyoncé's performance on the CMA awards. In advance of the broadcast, CMA removed a five-second promotional clip from ABC.com and CMA's Facebook page. The promo was unapproved and CMA removed it prior to the broadcast. Beyoncé's performance with the Dixie Chicks was a highlight of the evening and we are continuing to share the amazing full-length performance clip via our official social channels."
Meanwhile, Sarah Trahern, the Country Music Association's chief executive, is placing the blame on Beyoncé. She told the NY Times that Team Bey asked them to remove a promotional clip teasing the performance.
"Beyoncé's team hadn't approved that, so we pulled it down," Trahern said of the teaser. "Fans can get kind of passionate and read other things into it." Trahern added that Beyoncé provided her own photographer and her team only approved one official live video of the performance on ABC.com.
"We stand by it," Trahern said of the performance. "If a program moves people so much one way or another, I think we've had a successful show. We believe in free speech and people can post what they're going to post. It's about the music, not about politics."
Thursday night (Nov. 3), the Dixie Chicks took to Twitter to share their feelings on the incident:
If we all turn this up really loud, together we can drown out the hate. https://t.co/PWJcDeNmuR

— Dixie Chicks (@dixiechicks) November 3, 2016
Also, for what it's worth, DC frontwoman Natalie Maines seems to be totally unbothered:
Ok! I can finally talk about one of the greatest weeks of my life! Thank you @Beyonce ! You slay. All day! pic.twitter.com/XJCOrdweih

— Natalie Maines (@1NatalieMaines) November 3, 2016
I'm pretty sure I've uttered the sentence,"I will never perform on the CMA's again as long as I live."
And then came ?:)

— Natalie Maines (@1NatalieMaines) November 3, 2016
Hey everybody!The CMA's just called and asked us to co-host next year's show with Beyoncé.Unfortunately I've got a thing that night so, no.

— Natalie Maines (@1NatalieMaines) November 3, 2016
It's ok. I used them to fulfill my dream of singing with Bey.
(On their dime;)

— Natalie Maines (@1NatalieMaines) November 3, 2016
And we think this tweet sums up the whole situation:
"You know you dat Bitch when you cause all this conversation. Always stay gracious best revenge is your paper." #Bey #Slay

— Natalie Maines (@1NatalieMaines) November 3, 2016
Be the first to receive breaking news alerts and more stories like this by subscribing to our mailing list.