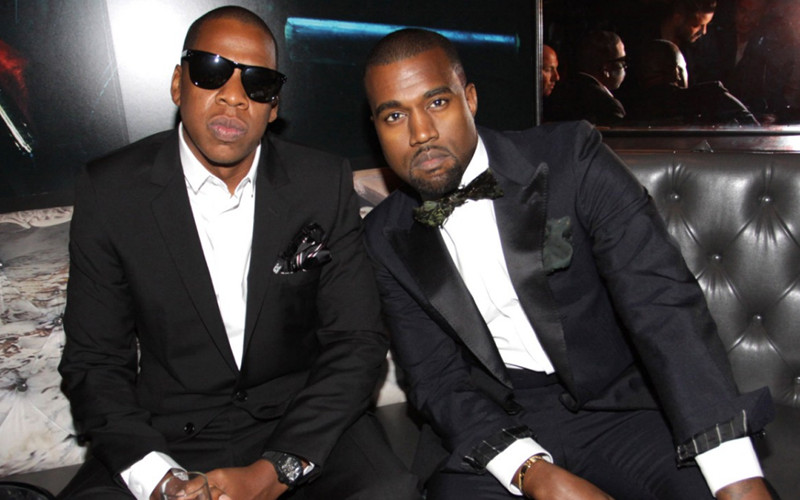 Though their wives certainly aren't friends, it seems Kanye West and Jay Z are also not as close as we once thought. Kanye even went on rant during a concert to spill some Tidal versus Apple tea and complain the hip-hop moguls' daughters have never played together.
During his Wednesday show (Oct. 19) in Seattle, West was in his feelings because he believes Jay and Beyoncé could be more supportive friends since Kim Kardashian was held at gunpoint in Paris.
"Don't call me after the robbery and say, 'How you feelin'?' You wanna know how I'm feelin'? Come by the house. Bring the kids by the house like we brothers. Our kids ain't never even played together."
Some have seemed very shocked that Blue Ivy (4) and North West (3) have never had a playdate. However, I've always assumed Beyoncé doesn't fool with Kim Kardashian unless absolutely necessary at a public function. I mean, did anybody really believe Queen Bey was eating Kim's "soul food" at a private Carter/West cookout?
West's rant was sparked as he began to perform his verse of the Drake song, "Pop Style." According to West, he wasn't included on the final version of the song due to "Tidal Apple bullsh*t."
Kanye says there will never be a Watch The Throne 2 because of Jay #SaintPabloTour #seattle pic.twitter.com/NOvFW2gwWc

— Maximum Emotion (@TheRealCostna) October 20, 2016
"Let me tell you something, there will never be a Watch the Throne 2. You know why? Because…I wasn't on this song because of Hov. Because of Tidal Apple bullshit. And this shit be getting me tight every time I perform this motherfucker. So y'all didn't get what y'all was supposed to get with me and Drake on this song, because of Tidal Apple bullshit. Every time I perform this song I think about this shit. I think about the politics and the bullshit. I think about how hard I go. For music. For art, for y'all, for the fans. And Hov, he don't."
Fans said he then skipped "Niggas in Paris."
https://twitter.com/MackennaMoore/status/788969207799001089
So exactly how long has this rift been going on? A source revealed to Page Six that Jay Z only "tolerates" Kanye West and only collaborated and toured with him in 2011 to make money.
"Jay can't stand him. He looks at him as this crazy, eccentric motherf***ker he can tolerate in small doses. Kanye is a nut job. Everyone knows that."
However, another Page Six source shot down this claim and insisted West was not dissing Jay in his rant.
"It didn't seem like Kanye was dissing Jay at all. They are brothers, closer than friends. Jay appreciates Kanye's genius, understands his passions and eccentricities and is accepting of it all."
Regardless of what kind of "beef" the two of them have, still don't anticipate any Blue Ivy/North West playdates anytime soon. At least, not on Beyoncé's watch.
Be the first to receive breaking news alerts and more stories like this by subscribing to our mailing list.