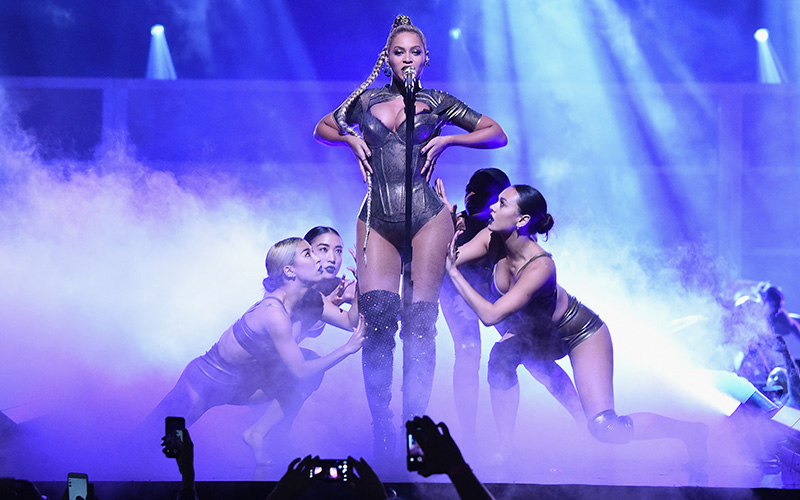 When you're Beyoncé, nothing on this earth can stop you from putting on a show.
Your group mate falls on live television? The show must go on. You trip and fall down stairs while performing live in concert? The show must go on. Your hair gets caught in a fan? The show must go on. You stumble while performing the Super Bowl halftime show in front of 100 million people? The show must go on.
Lightning storm? Cold, rainy weather? The show must go on.
What about if your signature ponytail snags your earring, ripping it out of your earlobe, and causing blood to run down your ear? Guess what? THE. SHOW. MUST. GO. ON.
Beyoncé headlined the second annual TIDAL X charity concert over the weekend, and her show-stopping performance included dancing holograms, moving shelves and a certain level of tenacity that allowed her to continue performing even though her ear was bleeding.
https://twitter.com/TheDailyBey/status/787466491046354945
After performing "6 inch" (a song from her visual album Lemonade), while transitioning into the next song, "Haunted" (from her surprise 2013 album Beyoncé), somehow Beyoncé's dangling earring got caught on her long ponytail and was ripped from her left ear.
However, being the professional that she is, she didn't even notice until she had already started singing, and at that point, she was all, 'IDGAF, THE SHOW MUST GO ON ON.'
She wiped her ear, looked at the blood on her fingers and kept on going as if nothing had even happened. If you weren't really looking closely, you may not have even noticed it. That's just how it is when it comes to Beyoncé and her onstage snafus. She could lose a foot while performing and you probably wouldn't even notice it until someone on Twitter pointed it out. THE GIRL IS JUST THAT GOOD.
After performing "6 Inch" and "Haunted," Beyoncé returned to the stage at the end of the concert and closed it out singing "All Night," another song from Lemonade. As the 9-minute performance ended, Bey reminded the crowd and everyone watching the live stream of the importance of voting next month.
"It can be easy to feel helpless and want to just block the world out. But doing nothing right now is not an option, y'all," she said. "I know it seems like things are bad, but if you think they can't get worse, just ask your grandparents. Remember Barack Obama is our president. You made that happen. Young people made that happen."
She added, "We are not helpless. The fire is still burning. Please go out and vote this November. So many people have died and sacrificed so much for us to have our voice. We have to use it. Get in formation, use our voices to do something great for our children."
You heard the Queen! Unless you're OK with an old, angry cheese puff becoming the next POTUS, you better make sure you "get in formation" and VOTE on November 8th (November 28th if you're voting for Trump).
Watch all three of Beyoncé's TIDAL X 1015 performances ("6 Inch," "Haunted" and "All Night") HERE:
Be the first to receive breaking news alerts and more stories like this by subscribing to our mailing list.