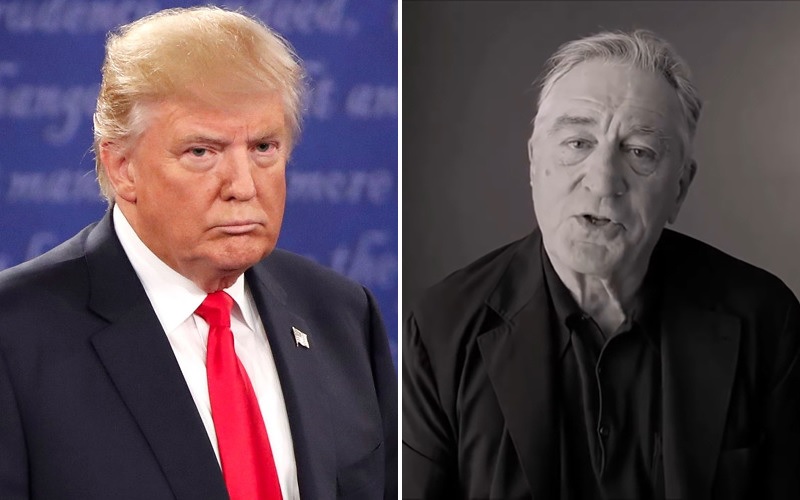 Robert De Niro is fed up with Donald Trump just as much as most of us are. In fact, the legendary actor would like to "punch [Trump] in the face!"
De Niro recently participated in a PSA for the "Get Out the Vote" campaign, which encourages Americans to vote. However, the Oscar winner was so critical of the Republican presidential candidate, his comments did not make the final cut of the video.
Footage of De Niro's minute-long attack against Trump has surfaced and was aired on Fox News' The Kelly File last Friday (Oct. 7).
"I mean, he's so blatantly stupid. He's a punk, he's a dog, he's a pig. He's a con, a bulls t artist, a mutt. He doesn't know what he's talking about, doesn't do his homework, doesn't care, thinks he's gaming society, doesn't pay his taxes. He's an idiot. Colin Powell said it best: He's a national disaster. He's an embarrassment to this country."
Acknowledging Trump's ill-temper, De Niro emphatically said he would like to "punch" the presidential candidate.
"It makes me so angry that this country has gotten to this point that this fool, this bozo, has wound up where he has. He talks [about] how he wants to punch people in the face. Well, I'd like to punch him in the face. This is somebody that we want for president? I don't think so."
The Godfather actor was not holding anything back. But, where was the lie? De Niro was brutally honest and said everything that most of us already feel or believe.
It's understandable why "Get Out the Vote" decided not to use De Niro's taped segment. However, I'm glad the footage has come to light. He perfectly summed up Donald Trump as a presidential nominee in under a minute! That, alone, deserves an award.
Be the first to receive breaking news alerts and more stories like this by subscribing to our mailing list.