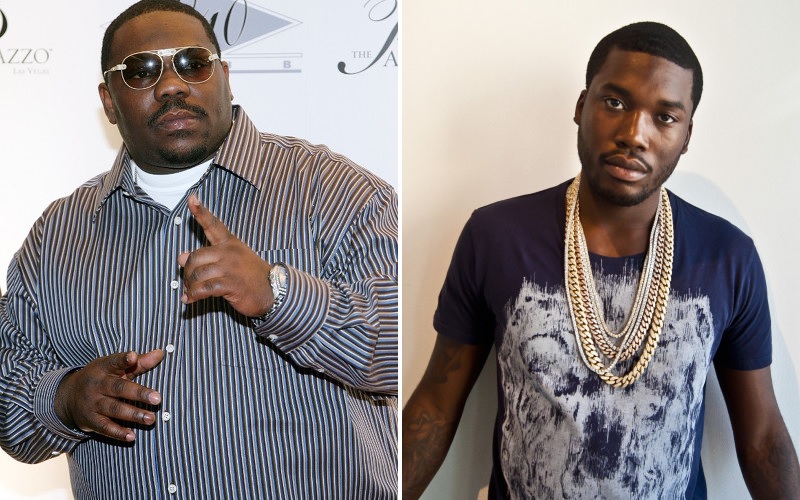 House arrest may not have been enough for Meek Mill. He just might have to go into hiding because nobody seems to be on his side. Beanie Sigel just went on a 30-minute rant about the rapper and questioned whether his beef with Drake is about Nicki Minaj rather than music.
During an interview with Taxstone, Sigel says Meek shouldn't have any issues with Drake's music because, "He's not from the streets, so he don't gotta live by that code."
"You can't look at that man in a different light because he got armed security or whoever he got. He's the f***ing biggest thing in music, nigga! A pop star. Who cares if he not writing that shit? That nigga saying some shit. I don't give a f**k. It's not taking away from your money or any of that."
https://twitter.com/VinePhilly/status/781159363012620288
This then leads to question of what's really behind Meek's beef with Drake. Sigel thinks he's solved the riddle.
"In my point of view? You was laying in the bed one night, you rolled over and you looked at her and you asked her, 'You f**k that nigga?' And she ain't answer you in the way you wanted to."
Sigel definitely has a point when it comes to Drake's music and Meek's coins. He may even be closer to the truth regarding Minaj's relationship with the Canadian superstar. However, Sigel's rant may be fueled, in part, by his own current issues with Meek.
The day before his interview with Tax, Sigel was sucker punched and "knocked out" backstage during the Philadelphia stop of the Bad Boy Family Reunion Tour. Video footage of the aftermath has leaked and Teefy Bey, a member of Meek's crew, is copping to the punch.
According to BET.com:
"Yeah I know about it," [Teefy] jokingly said of the attack. "I think he passed out from his diabetic medication." Teefy then explained what prompted an assault on Sigel by saying he "broke the code of ethics on the streets" and went on to be "back-door n****s with Game," insinuating a breach in trust. They were also mad that Sigel claimed earlier in the day that he had no beef with Game.
Siegel recently helped write lyrics on Meek's The Game's diss track, "OOOUUU." However, this was before Sigel heard Game's Meek diss ("92 Bars") and the two apparently worked things out. Meek and his crew feel some type of way about Sigel taking Game's side.
Sigel also blamed Meek's problem in the industry on himself. "Now it's to the point where your f**kery is becoming transparent. Now you at a place where niggas is saying man you misrepresenting Philadelphia," he said.
Meek has responded to Sigel's rant on Instagram with a screenshot of a text message allegedly sent from Sigel when things were "all good" between the two.
https://www.instagram.com/p/BK6nsa2Dc2T/?taken-by=meekmill
Meek writes:
All good a week ago! @liluzivert don't mind that shot that's how niggas talk when you winning! ONE MIN THEY TALKING LIKE THIS BEHIND CLOSED DOORS THEN THEY TALKING LIKE THAT? I CANT BELIEVE "n#%gas" went out like that THIS WHY I GOTTA CHANGE MY NUMBER LOL I THINK EVERYBODY LOOKING AT THEY PHONES EVERYDAY ALL DAY IS DOING SOMETHING TO THE HUMAN BRAIN OR IT GOTTA B THE DRUGS …..HOW CAN THESE N#%gas THINK THEY THOROUGH EVERYBODY ON THE "NEEDLE" that attention needle!
I have no clue how Meek continues to find himself in all this drama. And the bad thing is that it never works out in his favor; he always loses the battle.
Be the first to receive breaking news alerts and more stories like this by subscribing to our mailing list.