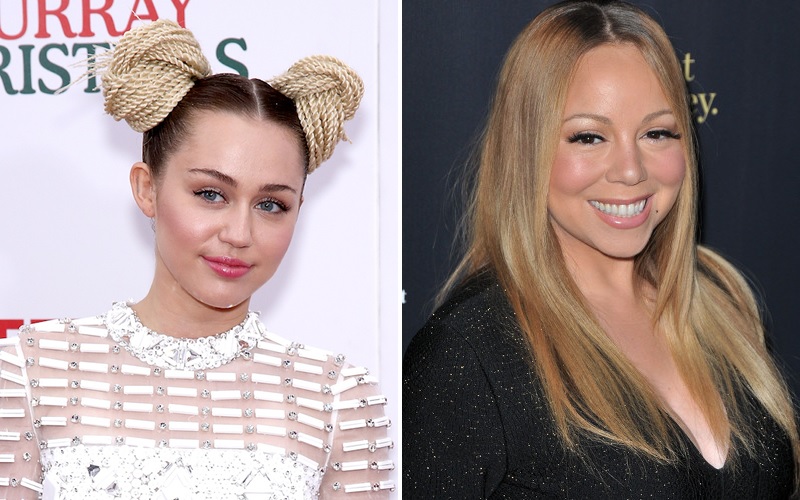 First it was Nicki Minaj, and now Miley Cyrus is coming queen diva of all divas, Mariah Carey.
The new Voice coach will grace the cover of the Elle's October issue. In the cover story, Cyrus reveals she has never, ever liked Carey.
"I've never really been a fan, because it's so much about Mariah Carey. That's part of her shtick; I can see through that. It's about what she's wearing, and it's about her. What I make isn't about me. It's about sharing my story; it's about someone being connected to what I'm saying."
There's no denying that no one loves Mariah Carey more than Mariah Carey herself. However, the singer has earned the right to be the diva she is. Carey's talent has carried her to icon status over the course of 25+ years.
While Cyrus is actually vocally talented in her own right, Carey doesn't have to rely on shocking/risqué on-stage antics to stay relevant. She lets her voice speak for itself; Cyrus cannot say the same.
Cyrus also makes a slight contradiction to the shade she throws Carey's way later in the interview. Reflecting on her Hannah Montana days, she admits all she ever wanted was to be on TV and was just happy to be a Disney kid. So was that about others "connecting" to her work or was that just a 12-year-old seeking fame?
You would think she would have learned not to poke a bear after Minaj called her out with "What's good?" at the 2015 MTV VMAs. Fortunately for her, Mariah Carey has better things to do than address anything Billy Ray Cyrus' daughter has to say.
Be the first to receive breaking news alerts and more stories like this by subscribing to our mailing list.