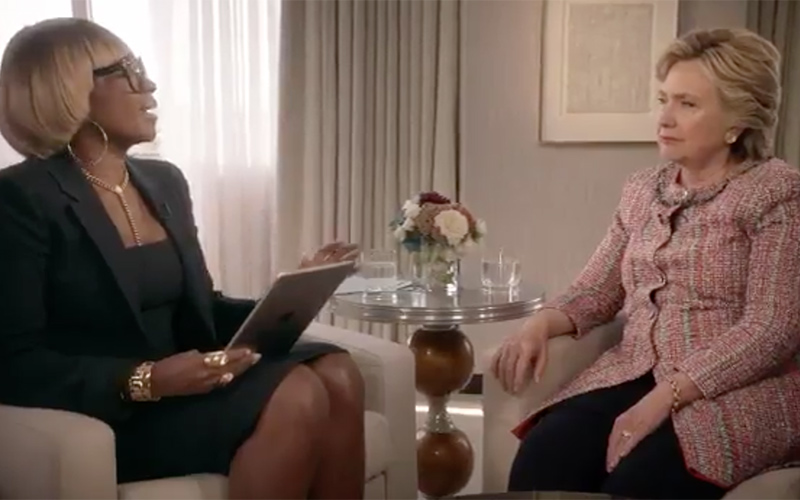 Blessings come in many forms and seasons, so when opportunity knocks, it behooves you to answer it.
Mary J. Blige has been blessed to get in good with the folks at Apple as she has been part of their Apple Music promotional campaigns since she, Kerry Washington and Taraji Henson did that commercial last year.
But apparently, that was just the beginning of her relationship with Apple Music because now a trailer for a pseudo-talk show called The 411 with Mary J. Blige has hit the web and in the clip, Mary serenades to Secretary Hillary Clinton. The song is seemingly about the Black Lives Matter movement as Mary sings:
"If an officer stops you, always be polite
And never ever run away, promise mama you'll keep your hands inside
Is it a gun? Is it a knife? Is it a wallet? This is your life
It ain't no secret, it ain't no secret, no secret my friend,
You can get killed just for living in, your American skin"
After this strange ballad, Mary, who's wearing a blonde, shaggy wig that covers her eyes BEHIND a pair of gigantic, '70s style sunglasses, attempts to get her Oprah on as she softly asks Hillary Clinton, "I just want to know, where do we go from here?"
Now, look here, I applaud Hillary Clinton for doing whatever it takes to win the black vote, but she didn't need to put herself through this mess. She has been a first lady, a senator and a secretary of state. She does not need to sit down while Mary J. Blige pretends to be a journalist. And I'm gonna need Mary to go back to the drawing board with that simple-ass BLM anthem too.
Watch the foolishness for yourself below in a trailer for the show, which is set to premiere on Sept. 30.
Mary J. Blige…. wyd? pic.twitter.com/3PMj7rXym8

— ????? ??? ? (@TheCourtKim) September 27, 2016
Be the first to receive breaking news alerts and more stories like this by subscribing to our mailing list.