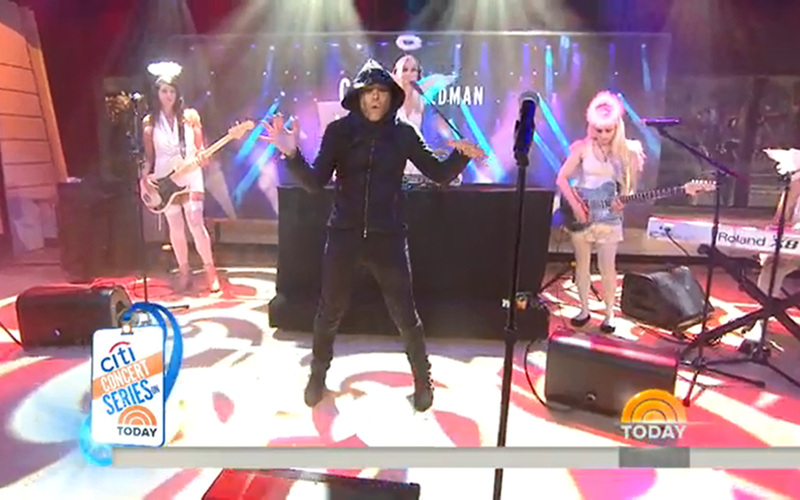 Corey Feldman is having a rough couple of days. The 80s star became the joke of the internet after his bizarre performance of his new single on the Today show went viral. The performance was universally panned and the negative comments caused Feldman to cry and feel bullied.
"We can't get out of bed right now," Feldman said in a Facebook Live post that has since been deleted and re-uploaded to YouTube. "We're petrified to even go out … And I'm sorry, but we just wanted the world to know, like, we're really freaked out over this and it's really not fair."
Feldman and his "Corey Angels" appeared on the Today show to perform his new single, "Go 4 It" from his fifth album, Angelic 2 the Core. Dressed in all-black, Feldman gave one of the most cringe-worthy performances I have ever seen.
I don't know why Feldman's agent/publicist/team or Today producers would even allow this to happen. But somehow, I feel this is all Billy Bush's fault.
The odd and disturbing performance went viral and became trending topics on Twitter and Facebook. Feldman and his "maingel" Courtney Anne, addressed the backlash via a Facebook Live post.
Feldman said:
"We just wanted to tell everybody that, like, it's been really painful. We put ourselves out there and we did the best that we could. And, like, I've never had such mean things said about me. Like constantly. All we can say is that we tried really hard because we love our fans and we just wanted to give them the best show that we could. But we don't deserve … these things that are said about us are awful."
Not quite sure how he made this giant leap, but he even pondered why it's not OK to be racist, but perfectly fine to "bash Corey Feldman."
"It was a song, okay? It wasn't that weird. I'm sorry if it's not good enough for you, but you don't have to beat us up. I just want to say that, like, why is it okay to, like, publicly shame us? … I don't understand … It's, like, not PC to, like, say somebody is fat or somebody is white or somebody is black or somebody is yellow or green or if they have a short leg or if they have a missing finger. Like we can't talk about these things. But it's okay to bash Corey Feldman and the Angels."
While bullying is not OK, art is open to criticism. And the truth of the matter (not even criticism) is that Feldman's performance was bad. Like, really, really, really, bad. He got on national TV and essentially made a fool of himself. I hope Feldman can rebound from being the joke of the internet, but at this point, the 80s star should let Stand by Me and The Lost Boys carry his legacy.
Be the first to receive breaking news alerts and more stories like this by subscribing to our mailing list.