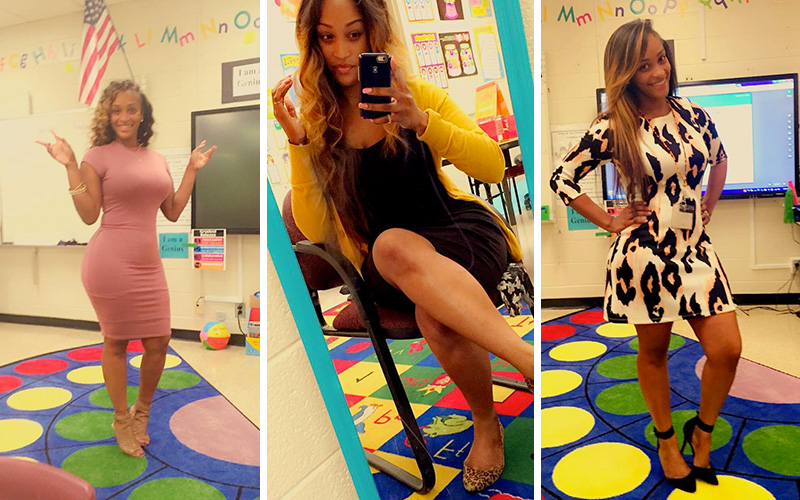 People just won't let Patrice "Tricey" Brown (aka #TeacherBae) be great.
The fourth grade Atlanta school teacher who has been blowing up on social media and is being called "the sexiest teacher alive" is catching flack over her school attire, which has sparked a pretty heated debate on social media.
While many like myself are fans of Brown and her voluptuously sophisticated figure, some have found her photos on Instagram, which show her wearing tight, form-fitting dresses and high heels, inappropriate for a teacher.
Parents are complaining that Brown's outfits are too racy to be wearing around children. Other commentators are arguing that her outfits could cause a distraction for students in the classroom.
I hope she's not a teacher, that outfit isn't appropriate for school pic.twitter.com/ky0Vw8ySnM

— Cornelius Ball (@ROYGB_V) September 12, 2016
https://twitter.com/QualaShields/status/775322817579487232?ref_src=twsrc%5Etfw
https://twitter.com/breeNaughtyy/status/775358908944748544?ref_src=twsrc%5Etfw
my favorite part of the #teacherbae discussion? those saying 3rd grade boys don't look at their teachers *like that*."

uh, yes they do.

— Bomani Jones (@bomani_jones) September 12, 2016
Meanwhile, those who are in Brown's defense are calling out critics for sexualizing her over her nicely shaped figure.
https://twitter.com/stackztootrill/status/775420004174934016?ref_src=twsrc%5Etfw
A black woman is born w/ curves & is discriminated/sexualized, a white woman BUYS those same features and its 'trendy fashion' #teacherbae

— Dj '12/23' Boo (@KuntryCoolBreeZ) September 12, 2016
Y'all will take any educated, independent woman and turn her into a sexualized object. I'm so sick of this. #teacherbae

— sai (@Saisailu97) September 12, 2016
If a Black woman has a curvy body she's immediately judged and sexualized for something she has no control over #teacherbae

— Noirdynamite (@BlackDynamiteJC) September 12, 2016
The side of #teacherbae the media won't show you pic.twitter.com/XSdDUD2Ug1

— Leo Kinda Cordial (@ItsLeoJ) September 12, 2016
Funny how nobody posted this pic of #teacherbae. The one that matters. You guys are only focusing on the negative. pic.twitter.com/i35y6hpbL7

— NUFF (@nuffsaidny) September 12, 2016
So what does Patrice Brown herself have to say about the whole heated debate?
After deleting a number of photos (mostly the ones of her in her classroom), Brown uploaded a new selfie and shared an inspirational quote that said, "This Too Shall Pass." She wrote in the caption, "My only focus is to remain FOCUSED! #TheBiggerPicture.
Be the first to receive breaking news alerts and more stories like this by subscribing to our mailing list.