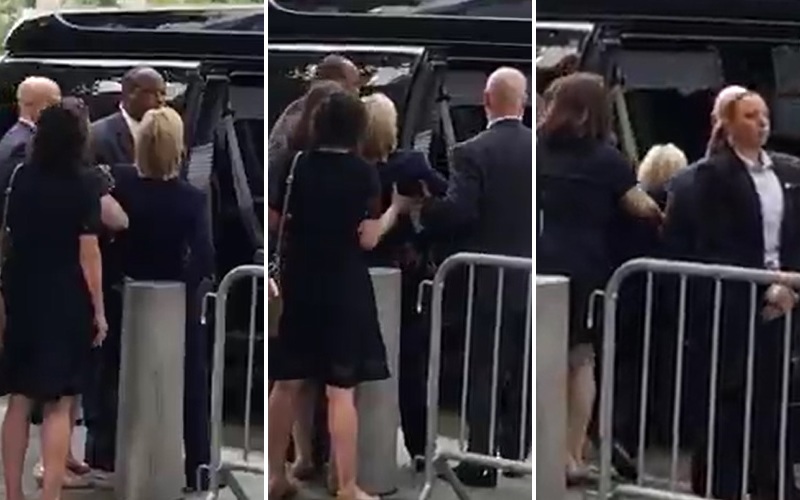 Hillary Clinton gave the nation quite the scare as she suffered a "medical episode" while attending a 9/11 commemoration ceremony in New York City. Video footage shows the Democratic presidential nominee wobbling (and possibly even fainting) as she left the ceremony early. Clinton was apparently diagnosed with pneumonia on Friday (Sep. 9).
Hillary Clinton 9/11 NYC pic.twitter.com/q9YnsjTxss

— Zdenek Gazda (@zgazda66) September 11, 2016
https://twitter.com/awyattman88/status/775032273771040768
You can clearly see the Democratic nominee stumbling and ultimately falling. Secret service basically has to push her into the van.
It was originally reported Clinton was "overheated" and "dehydrated," which prompted her to leave the memorial service early. However, after the troubling footage leaked, her personal physician Dr. Lisa Bardack revealed the pneumonia diagnosis. Bardack also examined Clinton at Chelsea Clinton's apartment after she left the 9/11 ceremony.
Dr. Lisa Bardack's statement:
"Secretary Clinton has been experiencing a cough related to allergies. On Friday, during follow up evaluation of her prolonged cough, she was diagnosed with pneumonia.

"She was put on antibiotics, and advised to rest and modify her schedule. While at this morning's event, she became overheated and dehydrated. I have just examined her and she is now re-hydrated and recovering nicely."
Clinton left her daughter's apartment smiling and telling reporters she was "feeling great." "It's a beautiful day in New York," she added as she waved to supporters. She even posed for a photograph with a little girl.
The former Secretary of State has canceled a trip to California as well as fund raiser and TV appearances. She will remain at her Chappaqua, NY home as she recuperates.
Republicans and Fox News are probably gleaming with joy over the incident. Conservatives, with much help from Fox News, have shamelessly speculated on Clinton's health. Using selectively edited footage, they have suggested she may be battling a serious illness and even having seizures.
Though I doubt this is the shining undeniable proof for the Republican theory, the video of Clinton stumbling is extremely concerning.
Meanwhile, many Bernie Sander supporters have shared this video/GIF:
#HillarysHealth is so bad, Bernie's coming off the bench. pic.twitter.com/Py0rNdukGQ

— Internet Palace (@InternetPalace) September 11, 2016
Be the first to receive breaking news alerts and more stories like this by subscribing to our mailing list.