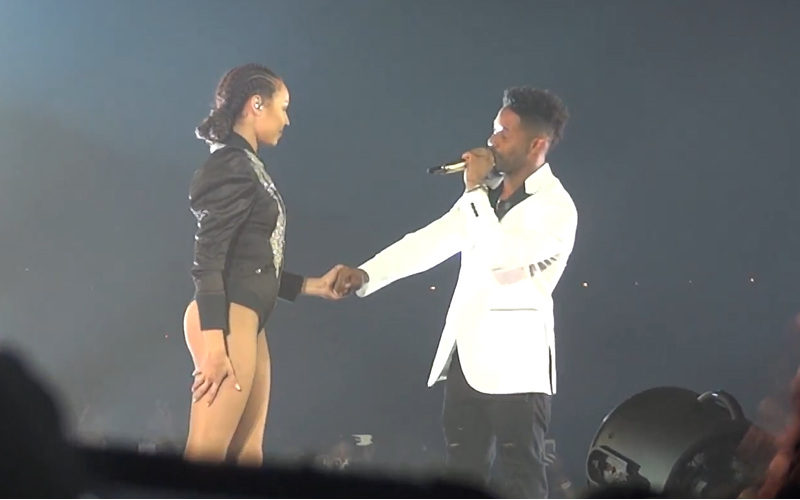 Love was definitely in the air during Beyoncé's St. Louis, Missouri concert on Saturday (Sep. 10). During a surprise performance of "Single Ladies," Queen Bey stopped the music as Formation World Tour creative director John Silver proposed to Beyoncé's longtime dance captain Ashley Everett.
Beyoncé, Everett and company were giving the audience life until Beyoncé suddenly stops performing. Everett, the true professional, continued to dance as Beyoncé "searched" in the audience for someone she's supposed to bring onstage. She eventually stops the music and to Everett's shock, Silver, a St. Louis native, walks out and Beyoncé passes her golden mic.
"She's my queen, so I feel like it's only right to come out here in my hometown and show you guys the epitome of a young woman that knows how to deal with all the nonsense and the B.S. of a St. Louis n-i-g-ga… Will you marry me?"
Everett of course says yes and everybody is in their feelings. "Congratulations! Now let's see you do the choreography after that," Beyoncé Joked to Everett. Though it took a few beats, Everett quickly got into formation and completed the "Single Ladies" choreography and was sure to show off her new engagement ring.
The newly engaged couple both took to social media to thank Beyoncé for the special moment and once again express their love for each other.
https://www.instagram.com/p/BKOEVjQDPyc/?taken-by=1j.silver
https://www.instagram.com/p/BKOS6veBm_r/?taken-by=ashleycmeverett
As "Single Ladies" is not on the official Formation tour set list, Beyoncé helped orchestrate a beautiful, romantic, once-in-a-lifetime proposal for Silver and Everett. Though I'm not a fan of public proposals, even I was moved. I wish the two a lifetime full of happiness as they begin this new chapter together.
Be the first to receive breaking news alerts and more stories like this by subscribing to our mailing list.