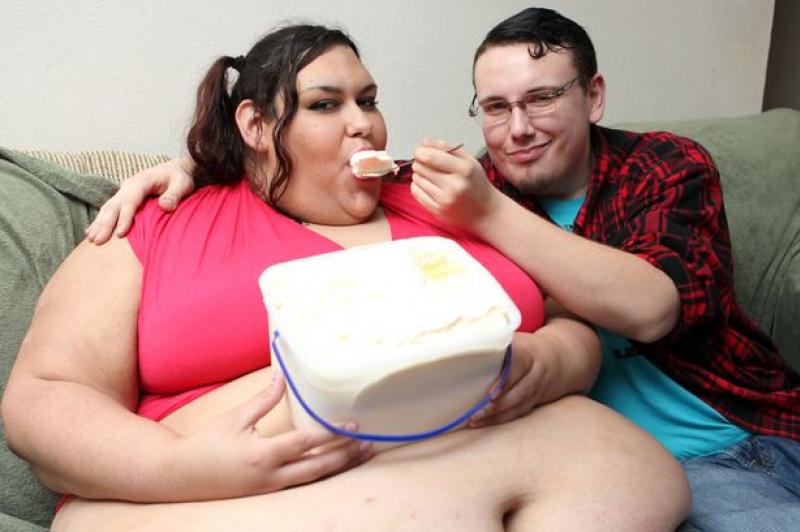 World, meet Monica Riley, the 700-pound woman who wants to be fatter.
The 27-year-old Texas woman (why am I not surprised) apparently eats around 8,000 calories a day. In case you're trying to do that math, that's about six biscuits, six sausages in a bread roll, a big bowl of cereal, two weight gain shakes, four McChicken sandwiches, four double cheeseburgers, french fries, 30 chicken nuggets, macaroni cheese, Taco Bell treats and a gallon of ice cream…err' day.
As if being that big wasn't bad enough, Riley — who reportedly earns a living from getting paid by men who watch her eat — says she wants to keep putting on the pounds until she tops out at 1,000 pounds.
"Two years ago I was set for a gastric band. But six months into dieting, I realized I wasn't happy losing weight. I decided to embrace my body. I don't want to be thin. The goal now is to be the world's fattest woman at 71 stone [994 pounds]. I'll be completely immobile."
But you may be asking yourself, how does an immobile person possibly manage to consume 8,000 calories a day? Well, with the help of her boyfriend of course.
That's right, the hopeful fattest woman in the world has a partner, Sid Riley, who apparently is a "feeder," or someone who feels sexual gratification in seeing people eat. Dude must be aroused ALL THE TIME.
"If I lay down after a big dinner he has to help me roll over because my belly is too full for me to roll — it's a big turn-on for both of us," Monica says. Apparently it's like "hugging a giant pillow" to Sid.
And it turns out being the fattest woman in the world and immobile shouldn't keep a person from having kids, because apparently the two want to become parents in the future.
If that comes to happen, I think it's safe to say we'll see the Rileys on I Didn't Know I Was Pregnant.
Be the first to receive breaking news alerts and more stories like this by subscribing to our mailing list.