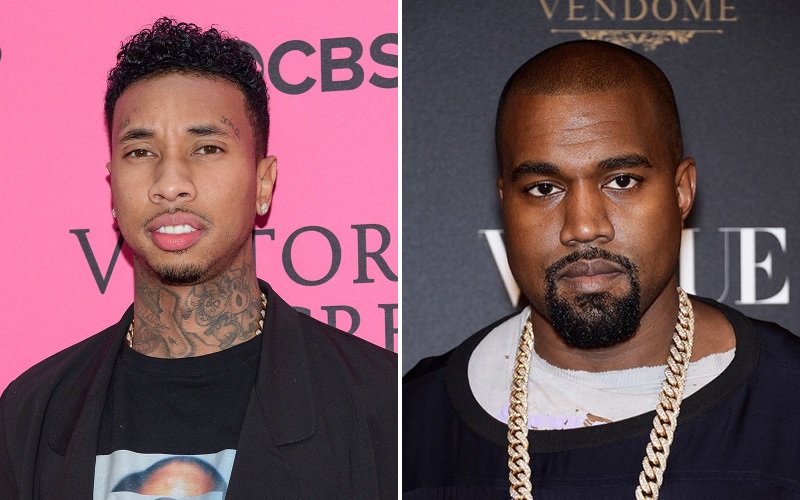 Kanye West is keeping it all in the family. Soon after his disastrous Yeezy Season 4 fashion show, which left models falling out of their shoes and passing out, West made an official announcement that many also consider a misstep. The hip hop mogul announced that he had signed Tyga to his G.O.O.D. Music record label.
https://www.instagram.com/p/BKFW-qdhKh7/
Tyga is obviously Kylie Jenner's boyfriend and increasingly becoming more known for legal and money issues rather than his music. So, is Kanye just doing his sister-in-law a favor?
Making "Tyga" a trending topic, many on Twitter shared their hilarious thoughts once learning Blac Chyna's baby daddy was signed to G.O.O.D Music.
https://twitter.com/lukeisrome/status/773888571220504577
Sometimes I think about what keeps Tyga afloat, like on a personal level. Like maybe he is a very good listener or he always brings liquor.

— Craig Bro Dude (@CraigSJ) September 8, 2016
https://twitter.com/VH1PNUT_/status/773744908339326977
Tyga got signed to G.O.O.D Music and doesn't even make good music. Don't ever let nobody tell you what you can't do.

— Karlous Miller (@KarlousM) September 8, 2016
Cougar: dates younger men
Cheetah: dates several woman
Tyga: dates babymama's bestfriend younger sister who becomes his sugar daughter?

— DrDoubleD-Jnr (@DadaDupeola) September 8, 2016
TYGA: Hey thanks for signing me to G.O.O.D. Music fam!
KANYE: No doubt!
TYGA: So when does my album drop?
KANYE: Your what?

— Criminally Insane (Remix) (@russbengtson) September 8, 2016
Kylie closing Tyga's debts, got him a car & essentially, got him a record deal.

All Heroes still wear make up

— lenyora la ko Foxlake (@NkosiYummy) September 8, 2016
https://twitter.com/SupremeGOAT23/status/773744098264096769
Imagine being Kylie, you have to memorize Tyga's lyrics so you can sing along on snap when bae is performing pic.twitter.com/dXi7x0WE8w

— Chef MaChili (@ThokozaniChili) September 8, 2016
Tyga about to be the new Bow Wow. Bragging about being with Young Money but never releasing music. Stop making this a big deal ??

— Juwan (@KingTrillaX) September 8, 2016
Tyga got signed to G.O.O.D Music… Might as well sign Nick Cannon too.

— BAD! (@UniverseOfCam) September 8, 2016
The crowd started boo'ing when Ye announced Tyga is now signed to Good Music ?

— Myleeza?? (@MyleezaKardash) September 8, 2016
Tyga signing his G.O.O.D. Music paperwork pic.twitter.com/0OJKUFErrw

— ernest baker (@ernestbaker) September 8, 2016
Kanye really signed…Tyga pic.twitter.com/ebOPaN1bb6

— Zion (@A1exander__) September 8, 2016
Kanye signed Tyga to GOOD MUSIC… I assumed you had to have good music to be on there.

Everything is a lie.

— Scarlet Witch hate account (@ShenaeCurry) September 8, 2016
If Tyga messes up on Kylie, it's really a wrap for him. Buying him cars, getting him signed to her brother-in-law's label. She's his mother.

— Jolly Ol' Saint Vick ??? (6-6) (@ASAPVick_) September 8, 2016
It should be noted that Kanye West was credited as a producer on Tyga's 2015 album, The Gold Album 18th Dynasty. The album was released through Tyga's independent label, Last Kings Records.
Still, it's just odd that Kanye would suddenly sign someone who continuously gets clowned on social media, not to mention Tyga isn't currently topping anybody's charts.
Be the first to receive breaking news alerts and more stories like this by subscribing to our mailing list.