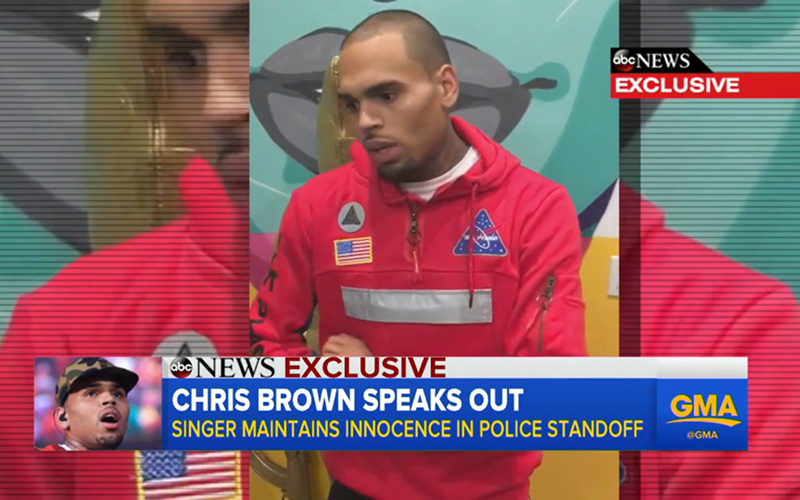 Chris Brown is finally speaking out since a 9-hour standoff with LAPD and subsequent arrest after Baylee Curran accused the singer of pointing a gun at her. Though Brown revealed he believes Curran set him up, that's not even the most interesting new detail regarding this bizarre situation.
Brown exclusively provided Good Morning America and ABC News a video maintaining his innocence and expressing his thoughts on the matter.
"My character's been defaced and who I am as a person and integrity…. I'm glad that all my real supporters know me and know the truth, and they'll see the truth."
With an alleged text message as proof, Brown and his lawyer Mark Geragos, believes Curran set up the entire incident. The two suspect Curran sought revenge after Brown asked her to leave his home.
The alleged text message reads:
"I'm going to set him up and call the cops and say that he tried to shoot me, and that will teach him a lesson."
The message has yet to be authenticated. Curran is sticking to her original story that Brown pulled the gun on her after she admired jewelry another guest in Brown's home had.
However, if you're like me and felt this story was too insane to be true from the beginning, you might be on the right path. Many have noted that Brown's situation is eerily similar to the pilot episode of an upcoming show based on Geragos' career.
The first episode of Notorious (ironically on ABC) finds a lawyer arriving at a mansion while his client refuses to surrender to authorities. Sound familiar?
Although Chris Brown would not obviously sign up to be a part of some elaborate publicity stunt just to promote a show, the coincidences are too similar to ignore.
Even so, Brown was released from jail after posting a $250,000 bail and is scheduled to appear in court September 20th. Who knows what other details will emerge in the coming weeks?
Be the first to receive breaking news alerts and more stories like this by subscribing to our mailing list.