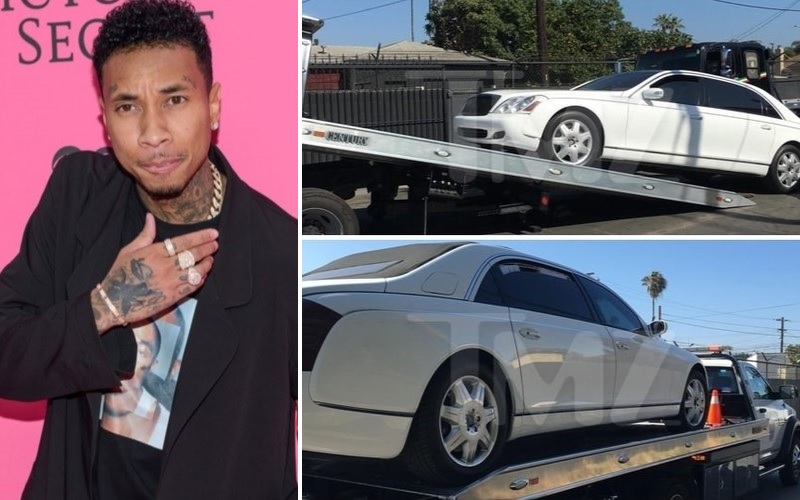 Either Tyga's efforts to "keep up" with the Kardashians is causing him to fall into debt or he's the unluckiest dude when it comes to luxury cars. Days after his red Ferrari was allegedly repossessed, it now seems his white Maybach suffered a similar fate.
The rapper's 2014 Maybach was recently repo'd after Tyga stopped making lease payments. Apparently, the $2.2 million car broke down and was towed to a repair shop. He stopped making payments while it was being repaired and the finance company took it back. Tyga reportedly hasn't seen it since it broke down.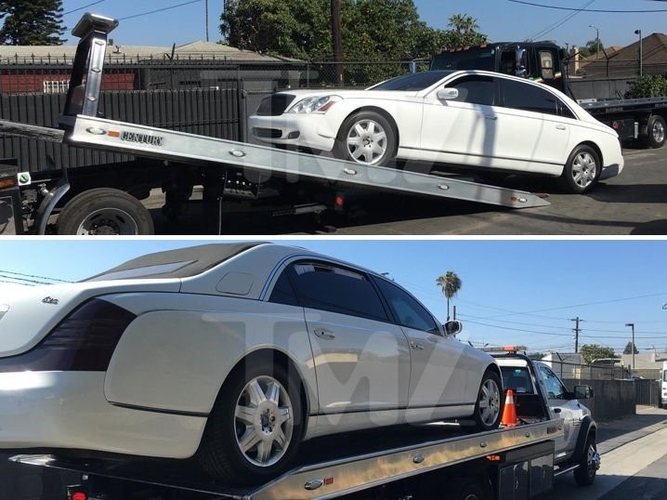 Now, as far as that red Ferrari goes, that's another story. Though it was taken while Tyga and Kylie Jenner were visiting a Bentley dealership, Jenner claimed the car was never actually repossessed. It's even back in Tyga's possession. But the story how he got it back is too bizarre to believe.
Some dude leased the Ferrari, but the car is so rare, he could only do it if he bought another car from the dealership that wouldn't be available for six months. The guy struck a deal with Tyga, who agreed to take the Ferrari and make the lease payments until the other car became available, and then he'd return it.

The guy who leased the car relied on another guy who relied on another guy to make the down payment, but the middle man kept the cash.

The Ferrari dealership put heat on the guy who signed the lease, who then demanded the down payment from Tyga. Tyga supposedly then paid the down payment to the middle man, but the money never got to the dealership. The guy who leased the car got pissed off and followed Tyga and Kylie to a Bentley dealership, where he took the law into his own hands and repo'd the car in the lot.
Reportedly, Tyga's lawyer threatened legal action and now Tyga has the Ferrari for a few more months. I have no clue what to believe, but it's all messy. He should just get a bus pass!
Be the first to receive breaking news alerts and more stories like this by subscribing to our mailing list.