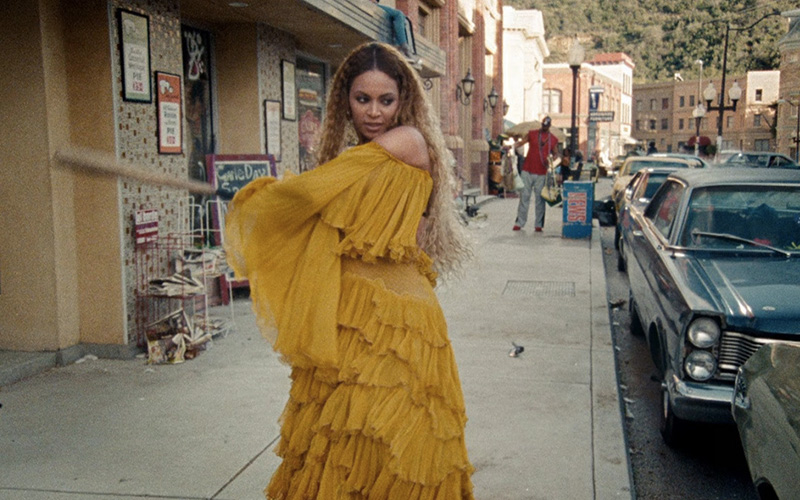 Today marks 35 years the world has been blessed with Beyoncé's presence, and to celebrate, Team Bey decided to release the official video for "Hold Up" to Vevo.
Even though it's Beyoncé's birthday, she's the one gifting fans with a visual treat.
The video isn't new — it's the same clip taken from Beyoncé's Lemonade visual album, which was released back in April — but it makes the second visual released from the project. "Hold Up" serves as the third official single from Lemonade, following "Formation" and "Sorry," the video for which was released to Vevo back in June.
Taken from Lemonade, the video opens with Beyoncé falling submerged in a bedroom filled with water as she talks about sacrifices she's made and the lies she told herself in a relationship just to keep her sanity. She reads aloud the following poem:
I tried to change, closed my mouth more, tried to be soft, prettier, less awake. Fasted for sixty days, wore white, abstained from mirrors. Abstained from sex, slowly did not speak another word. In that time my hair I grew past my ankles. I slept on a mat on a floor.I swallowed a sword, I levitated into the basement…

I whipped my own back and asked for dominion at your feet. I threw myself in a volcano. I drank the blood and drank the wine…

But still inside me coiled deep was the need to know…

Are you cheating on me?
Once Beyoncé escapes from the underwater bedroom, she steps out onto a sunny city street and commences to stroll down the street with a bat nicknamed "hot sauce" in her hand. She laughs gleefully as she smashes car windows and dances with children in the streets.
Watch the video here:
Be the first to receive breaking news alerts and more stories like this by subscribing to our mailing list.