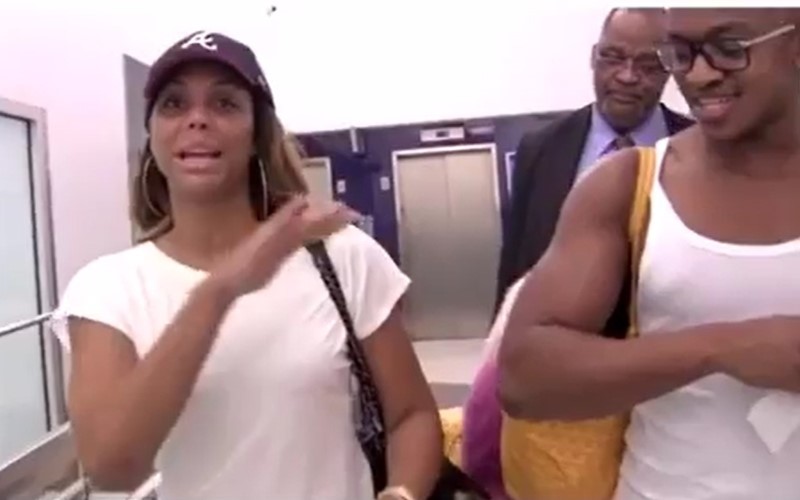 Tamar Braxton has finally broken her silence regarding the recent domestic dispute with her husband and the singer is coming out strong!
Paparazzi caught Braxton and a friend at the airport and presumably asked how she and husband/manager, Vince Herbert, were doing following the incident. Braxton, not one to mince words, defended her husband and told everybody worrying about the state of her marriage to "have several seats."
"Listen, let me tell you something… Just because somebody says something doesn't make it law. I'm not even finna defend my relationship to anybody. Ever. This is a marriage. This is not my baby daddy. This is not my boyfriend. We don't live together. This is my husband for 13 years…so everybody else can have several seats."
Whew! Braxton's definitely not playing anymore games. Though she likes to "spill the tea," she obviously doesn't like being on the other side of the gossip.
Braxton and Herbert were recently involved in a domestic dispute at the Ritz Carlton in Atlanta. 911 was called and the singer even revealed her husband bit her finger. Herbert fled the scene before cops could arrive, but police found no crime had been committed and no charges were filed.
Days later, the couple was seen hand-in-hand at LAX airport acting like nothing was wrong. Though they didn't speak to a TMZ paparazzo, Herbert shared a smile and a thumbs up.
Something clearly went down during their stay at the Ritz Carlton. Although their marriage is really known of our business, I just want all parties involved to be happy, and above all, safe.
Lovers' quarrels are common, but things really need to be examined and analyzed when finger biting comes into play.
Be the first to receive breaking news alerts and more stories like this by subscribing to our mailing list.