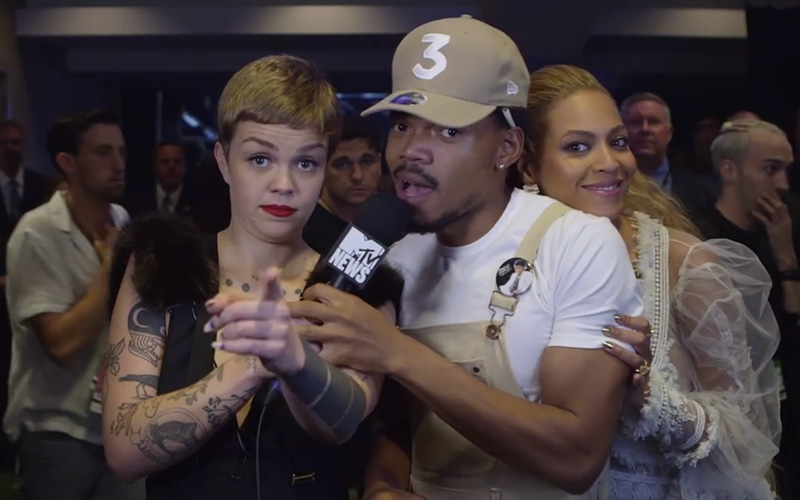 What would you do if you were an up and coming rapper, you're in the middle of an interview with MTV backstage at the VMAs, and Beyoncé walks up right behind you and grabs your arm? Well, that happened to Chance the Rapper, and his reaction was priceless.
During an interview with MTV News, Chance was talking about how he was coming for Drake's muscles when Beyoncé walked right up and grabbed him from behind. He didn't seem fazed at first, that is, until he realized who touched him.
"Oh my God, that was 'Yonce!" the 23-year-old rapper screamed before running over to talk to her.
Queen Bey, being the polite person that she is, also made sure to converse with the interviewer as well. They bonded over both being Virgos and Bey even complimented her on her tattoos.
"This my life, n**ga!" Chance said to the camera after Yoncé left. "That just happened!" the MTV correspondent said.
The 2016 MTV Video Music Awards should have been called the Beyoncé Music Awards (or, BeyMAs, for short) considering she took home 8 moonmen for Lemonade AND performed half the album in a show-stopping medley. She also turned heads on the red carpet, where she posed for pics with her daughter Blue Ivy and the mothers of Oscar Grant, Trayvon Martin, Eric Garner and Mike Brown.
Be the first to receive breaking news alerts and more stories like this by subscribing to our mailing list.