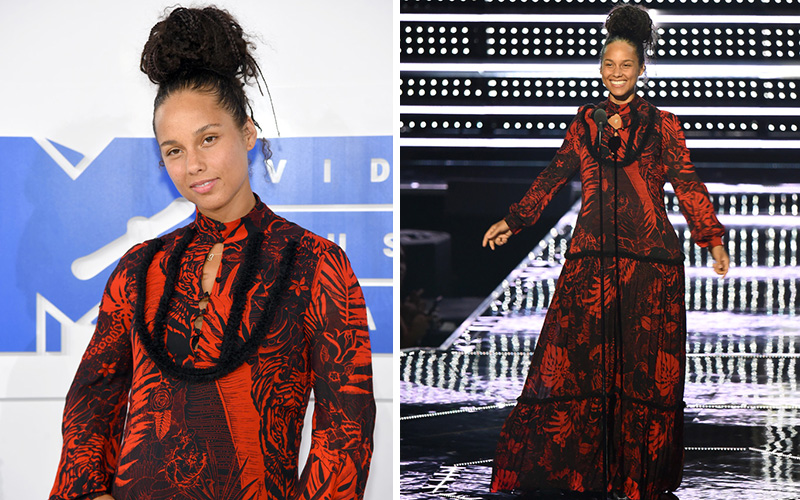 Alicia Keys did more than present the award for Best Male Video when she stepped onto the MTV VMAs stage. The singer-songwriter gave a powerful word with a short poem and with her look.
To honor the 53rd anniversary of Martin Luther King's "I Have a Dream" speech, Keys recited, what seems to be, an original poem. "If war is holy and sex is obscene, then we got it twisted in this lucid dream," she begins. The poem, which she spoke and sang, encouraged harmony and unity, rather than hate and division. "Maybe we could love somebody instead of polishing the bonds of holy war," the piece ends.
Keys' appearance also made a bold statement. While being broadcast to millions around the world, she donned a fresh face, wearing little to no makeup. The singer has been leading a "makeup-free" campaign since May.
She explained in an essay published in Lena Dunham's Lenny Letter that she feels makeup has a negative effect on women, particularly young girls. She says it harms one's self-esteem and causes women to judge each other based on looks.
Instead of tearing each other down and "hiding" insecurities, Keys wants to empower women and hopes to start a revolution, by going makeup-free.
"I hope to God it's a revolution. Cause I don't want to cover up anymore. Not my face, not my mind, not my soul, not my thoughts, not my dreams, not my struggles, not my emotional growth. Nothing."
What Alicia Keys is attempting is truly important. I'm sure her appearance and message resonated with many young girls watching the VMA Awards.
She is also expected to continue the campaign as she joins the upcoming season of The Voice as a coach.
Be the first to receive breaking news alerts and more stories like this by subscribing to our mailing list.