After getting into a public spat with her record label and struggling in general with her music and acting career, Brandy is sick and tired of the BS and she is not afraid to let people know that she doesn't see it for Monica.
Although the two reunited on 2012's "It All Belongs to Me," Brandy has made it clear that the two have not carried or maintained any kind of friendship in recent years.
Here's what Brandy had to say about Monica earlier this year, according to EW.
EW: People still love your 1998 duet with Monica, "The Boy Is Mine." She said last year that the supposed beef between you guys was "brilliant marketing."

Brandy: It was so long ago, I'm just in a different space. I don't talk to Monica. We are on different paths.
If you thought that was just talk, Brandy's petty behavior on Instagram toward Monica confirms it.
First she posted a shady meme about staying away from people who "decrease" your energy. She coupled the image with the hashtag #BeenGone, a reference to Monica's "So Gone" song, which has been a trending hashtag for weeks now thanks to the #SoGoneChallenge.
https://www.instagram.com/p/BJiUncHjyYt/
Then, feeling left out by everyone tributing Monica via the #SoGoneChallenge, Brandy posted a fan rapping to the instrumental of her song "I Wanna Be Down."
https://www.instagram.com/p/BJmBdaKDXnO/?taken-by=4everbrandy
She might as well have tagged it with #IWannaBeDownChallenge and #DontForgetAboutMeYall.
A fan jumped in the comments and asked Brandy if she'd participate in the #SoGoneChallenge. Her answer was so petty and sour it'd make a sour patch kid jealous.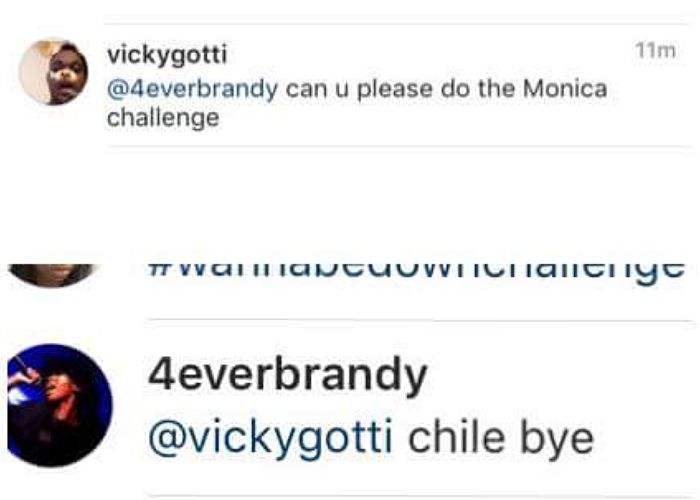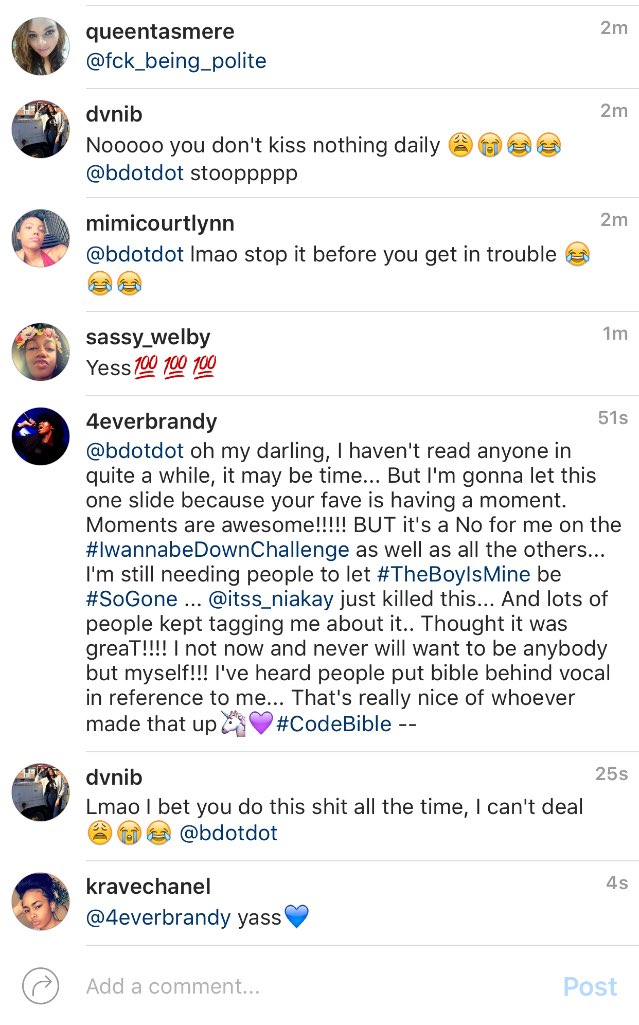 Brandy continued to go back and forth with fans in her comments section over the Monica shade and she posted this particularly dismissive meme.
https://www.instagram.com/p/BJmG1q5j-Xi/?taken-by=4everbrandy
The Shade Room captured a particularly rude clapback between Brandy and a fan.
https://www.instagram.com/p/BJmP7Augdyr/?taken-by=theshaderoom
And when Brandy got tired of it all, she turned off the comments on her pictures and walked away.
Meanwhile, Monica is on her Instagram looking refreshed, relaxed and busy.
https://www.instagram.com/p/BJmTjitBHoT/?taken-by=monicabrown
https://www.instagram.com/p/BJmmbeShvs5/
Still Working I couldn't be more grateful.. Life will be filled with moments that you will never forget. The key to continuously being blessed is being aware of what you put out.. Negativity, envy, hate & jealousy are the key to an early demise.. What ever you spread amongst the world is sure to come back to you.. It's up to you I choose LOVE, M.B.
Brandy, you are playing the game all wrong. Even if Monica's resurgence is eating you alive, showing your petty like this is not the way, girl.
Be the first to receive breaking news alerts and more stories like this by subscribing to our mailing list.