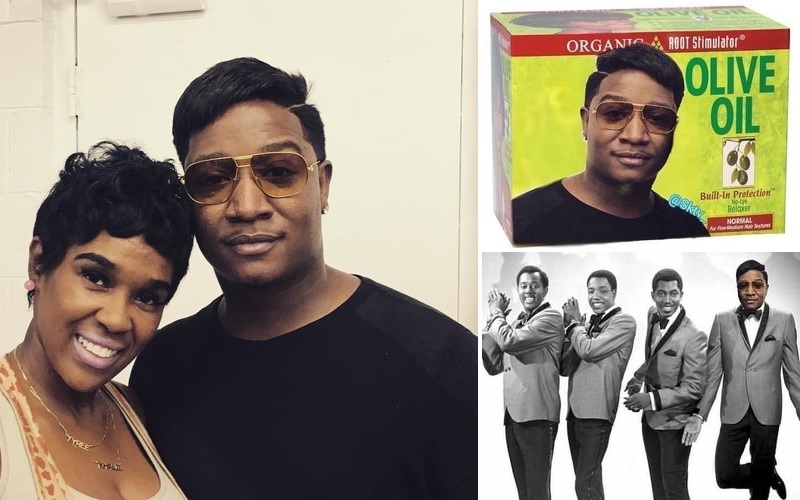 Yung Joc has Twitter talking! A picture of the rapper popped up on the internet with a rather interesting new hair-do.
With the fresh perm and his hair slicked back, Joc made it too easy for the internet to go all the way in. Jokes and memes quickly started making their rounds and catapulted the Love & Hip Hop Atlanta star a top 10 trending topic.
Just enter his name on Twitter if you want a good laugh.
Young Joc looks like your cool auntie who works at the post office and knows all the new line dances pic.twitter.com/lxJj8E5AOI

— Ricky Smith (@Rickonia) August 26, 2016
https://twitter.com/SheHatesJacoby/status/769209069173301249
Why Young Joc look like SpongeBob when he took Pearl to the prom pic.twitter.com/n9IQaBjAe7

— KEVAIN (@_KVain) August 26, 2016
Why Young Joc look like the Grandma from Family Matters? pic.twitter.com/yQ7n5PECnE

— Tyrrell Byrd (@for_the_byrds) August 26, 2016
https://twitter.com/_LanaKane_/status/769207893665218561
Young Joc is that auntie who works as a probation officer & blasts Monica, Fantasia, & Keyshia Cole in her Hyundai pic.twitter.com/NRCtNcjY3o

— ????? ?????? ????? (@lexuchiha) August 26, 2016
https://twitter.com/ToMuchSi/status/769204978871402496
https://twitter.com/LilHatiBeby/status/769201223467667456
Newest member of the Temptations. Young Joc, ladies and gentlemen. pic.twitter.com/VlKVVIG4ZX

— It's Hillary Banks, Sir.? (@_TheRealCarlie) August 26, 2016
Barber: yo what u want?

Young Joc: Can u make me bossy like Kelis in that video?

Barber: Say No More! pic.twitter.com/C5xl6WCKBh

— LORD OF THE AUX CORD (@pradahungry) August 26, 2016
i. just. can't. … young joc pic.twitter.com/n072DAu9Un

— we good? (@stutterjawnpod) August 26, 2016
https://twitter.com/Imdigginskylar/status/769195453820899328
These Young Joc tweets have made a bad day soooooo much better.

— Marc Lamont Hill (@marclamonthill) August 26, 2016
Barber: What ya want done?

Young Joc: Just a-wop-bop-a-loo-bop-a-loo-bam-boom me up pic.twitter.com/HX5kNWEeGT

— Dec 28th ????? (@WavyUltima) August 26, 2016
bruuuuuuuuuuuuuuuh………………LMMFAO!!!! Young Joc pic.twitter.com/LgXXQUEvEZ

— ProphecyMC (@prophecymc) August 26, 2016

Joc was apparently ready for the jokes because he recently defended the perm on his Instagram video.
"All y'all wanna look alike. But what if I just chose to do something different because I knew yo motherf**kin' ass was gonna talk about it? I won," he says in the video. "And I'll still take yo b*tch," he ended.
Joc also suggests the new hairstyle may be for a movie role and not just because he wanted to change his look. In fact, a quick IMDb search does show the rapper is cast in a 1960s period film, The Products of the American Ghetto, which is currently filming.
He also enlisted a few of his LHHATL cast mates to have his back. It seems the VH1 reality stars are headed to LA.
Regardless of the reason for Joc's new do, I just want to thank Twitter for the endless laughs!
Be the first to receive breaking news alerts and more stories like this by subscribing to our mailing list.