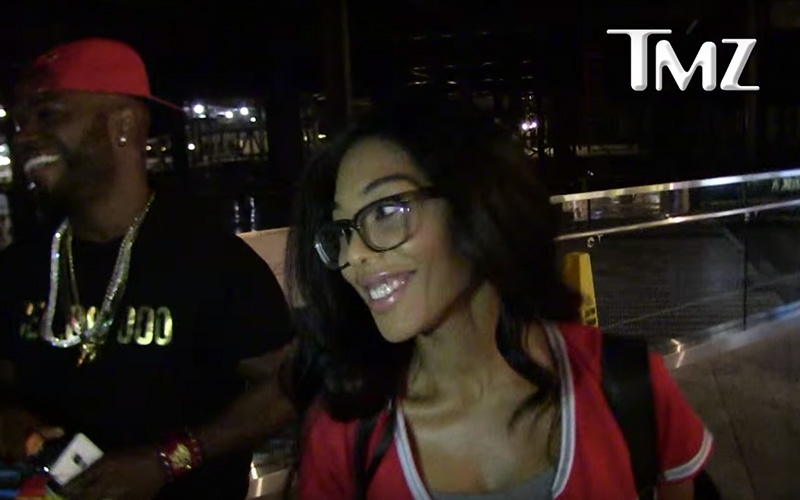 Moniece Slaughter is letting it be known that she is not here for Ray J and Princess Love's marriage, and she is, in fact, rooting for their inevitable downfall.
In the days following Ray J and Princess Love's wedding, TMZ caught up with their Love & Hip Hop Hollywood co-star Moniece and asked for her opinion on how long she thinks the new Mr. and Mrs. Norwood will be together.
Moniece, with Hollywood's biggest and messiest attention whore (Milan Christopher from LHHH Season 2) by her side, threw shade all over Ray and Princess's nuptials.
TMZ: Ray J recently got married…

Moniece: Oh, he did?

TMZ: Yeah, cameras were there and they filmed it all…

Moniece: Oh, they were?

Milan: Was it like, a VH1 special? Or was it like, uhh…

Moniece: I think it was just a wedding…

TMZ (to Moniece): Were you invited?

Moniece: Absolutely not…

TMZ: Were you upset?

Moniece: Absolutely not… and if I were invited, I wouldn't have showed up anyway.

Milan (to Moniece): Do you think Ray J's gonna be faithful?

Moniece: Absolutely not!

**Moniece and Milan laugh hysterically**
Moniece went on to say that Ray J doesn't know how to be faithful ("I think he'll try, but people are who they are, so…").
As for how long she believes the marriage will last, Moniece said she gives the newlyweds two years at the most. And in between now and then they'll have a "cute" baby, even though "Princess lost a lot of weight," which makes her "look like a fish now."
Hey, at least she gave them two years and gave their future child a compliment. For Moniece, that's growth!
Be the first to receive breaking news alerts and more stories like this by subscribing to our mailing list.